The popular tool TinyUmbrella was updated today to version 6.01.00 to bring compatibility with the iOS 6.0 and iOS 6.0.1 firmwares. This new version of TinyUmbrella also includes support for the iPad Mini, 4th generation iPad and the new iPhone 4 stealth revision.
TinyUmbrella is a tool that allows you to save your SHSH blobs for any iOS device. The reason why this is useful is because it will allow you to downgrade to a firmware Apple is not signing. It is important to keep in mind however, downgrading has become harder and harder on newer iOS devices, and it is more useful on A4 devices as there is less caveats.
You can take a look at the official blog post below.
I've updated TU to support iOS 6 and 6.0.1. The new iPad mini and iPad 4 are also supported as well as the new iphone 4 stealth revision.

Sorry for the delay folks. I'm still working on some pretty dang well needed changes to TU. The wait will be worth it…
Besides the update we also have gotten word that the next-generation of TinyUmbrella is still being worked on, which is some good news. TinyUmbrella has been need of a refresh for a long time now, and hopefully the wait will definitely be worth it.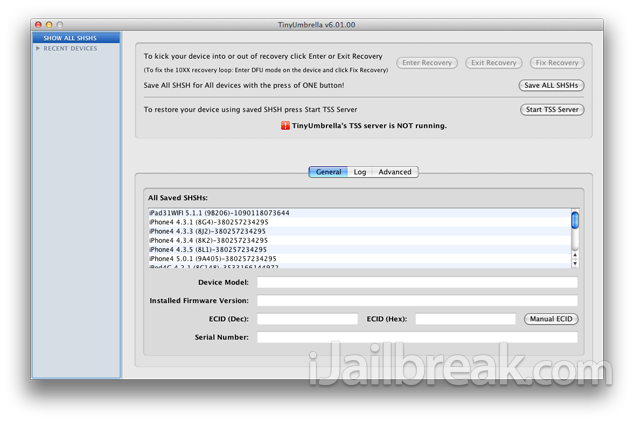 If you would like to download TinyUmbrella v6.01.00 then you can head on over to the iJailbreak Downloads Section or use one of the direct links shown below.
Download TinyUmbrella v6.01.00 (Windows)
Download TinyUmbrella v6.01.00 (Mac OS X)
For those with any further questions or thoughts turn your attention to the comments section below.