The Galaxy S IV was released on Thursday, March 14th at the Radio City Music Hall in New York. We already gave a rundown on its new features, specs etc. and concluded that it is indeed an impressive handset. In case you missed the previous overview, the Galaxy S IV features a 5-inch AMOLED display with a 1080p resolution (441ppi), an Exynos 5 Octa processor, 2GB of RAM and a 13 megapixel camera. It has some amazing new software features as well such as smart scrolling, smart pause, s health and Air View / Air Gesture.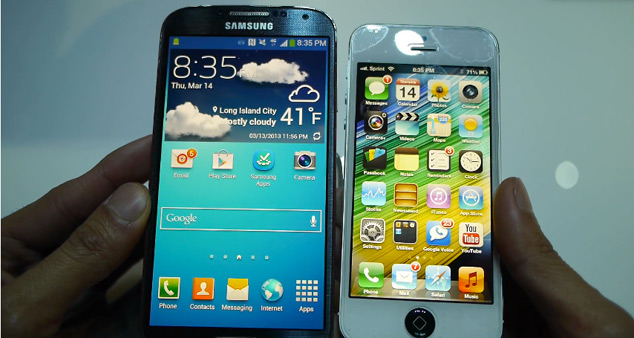 On paper the Galaxy S IV looks like an iPhone killer, but as Apple has proved, specs are not always everything. Although we will need to wait for the Galaxy S IV to officially ship to consumers before a proper comparison between the two handsets can be made, PhoneArena has done an initial comparison that does offer some valid insight.
hey have concluded that the iPhone feels of higher quality thanks to its aluminum body and that the iPhone is also thinner. As for the operating system, the Galaxy S IV definitely feels more powerful with its new wide range of features. In terms of display quality, the Galaxy S IV does have the iPhone beat because of its higher pixel density, but it loses out to the iPhone in color reproduction.
All in all, both handsets are excellent, but it will come down to personal preference on which one is right for you. What do you think? Do you think the Galaxy S IV is better than the iPhone 5? Drop us a line in the comments section below.