Notice
: Undefined variable: dd_override_start_anchor_id in
/home/ijailbre/public_html/wp-content/plugins/digg-digg/digg-digg.php
on line
351
Notice
: Undefined variable: dd_override_top_offset in
/home/ijailbre/public_html/wp-content/plugins/digg-digg/digg-digg.php
on line
352
Apple's upcoming data centres could not come soon enough! It seems like every other week a mass iCloud outage happens that disrupts the sending of iMessages and also the ability to place FaceTime calls. Most of the time when these outages occur however, Apple's official iCloud status page never reflects that there is a problem. Today is indeed different though…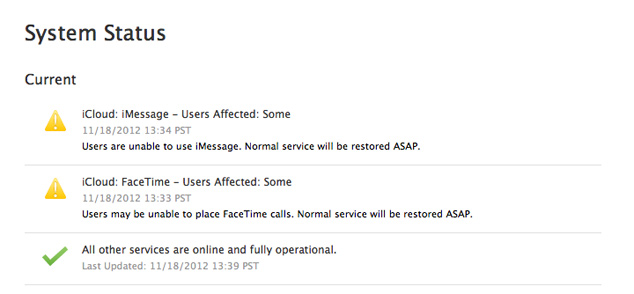 As you can see from the image above, at approximately 1:30pm PST Apple has reported that there is indeed a problem with iCloud that is affecting some users. From various other reports on the net and users complaining on Twitter it is indeed obvious a problem is present.
For most people this will not be the end of the world because sending text messages still work perfectly fine, but those looking to avoid roaming charges by hiding in Wi-Fi hotspots might be in trouble. Those with iPads and iPod Touches will be similarly out of luck.
If you're an iMessage user, feel free to keep us updated on the status of the service, by leaving a comment down below. In the past issues related to iCloud are usually resolved in a matter of hours, so hopefully Apple can get things running smoothly again.