Besides releasing iOS 7, Apple has also seeded an update to iPhone 5s and iPhone 5c users bringing it to version 7.0.1.
The news comes from 9To5Mac which points to Apple's update XML— which is where the OTA service in iOS gets its data — where it is shown iOS 7.0.1 is currently available.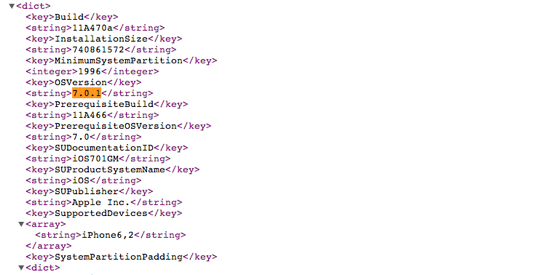 It is also worth noting that both Pogue (from the New York Times) and Mossberg (from the Wall Street Journal) noted in their iPhone reviews that an update for iOS was hitting this Friday, in time for the launch of the new device.
The reason why 7.0.1 apparently exists is to primarily fix a bug with the Touch ID system and iTunes purchases.
Considering the build numbers of both iOS 7 and iOS 7.0.1 are so similar, developer Stroughton Smith believes that iOS 7.0.1 may actually ship with the 5s and 5c, although this does not corroborate with Pogue and Mossberg's comments.
( I'm guessing 11A466 is the GM build included on the 5s and 5c, since our GM is 11A465 – thx @zwaldowski )

— Steve T-S (@stroughtonsmith) September 18, 2013
The bottom line is if you are getting a new iPhone Friday you may or may not be prompt to update to iOS 7.0.1.
Update #1: iOS 7.0.1 direct download links are available in the iJailbreak Downloads Section.