After making the iPhone 5C official, Apple then transitioned into the iPhone 5S, which everyone knew was coming.
The iPhone 5S will indeed come in 3 colors which includes Gold, Slate and Silver. It's made of high-grade aluminum, with chamfered edges.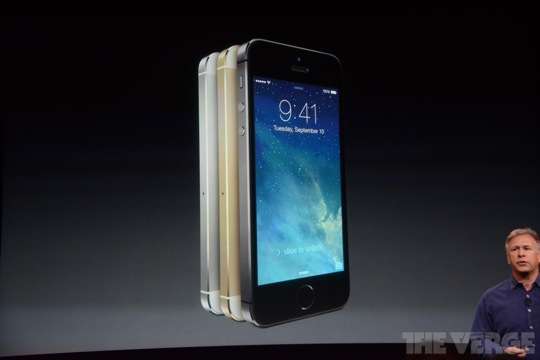 The iPhone 5S will feature an A7 chip which is the world's first 64-bit mobile processor (it has over one billion transistors inside). According to Phil Schiller iOS 7 has been completely reengineered for 64-bit, along with all of the stock apps from Apple.
It is also worth noting that XCode also supports 64-bit, so developers should be able easily upgrade as well. The iPhone 5S will still run older 32-bit apps as well.
This new 64-bit A7 chip means speeds over twice as fast compared to the iPhone 5. The chart below shows a 40x CPU performance bump. Graphics are 56x faster with OpenGL|ES 3.0 support.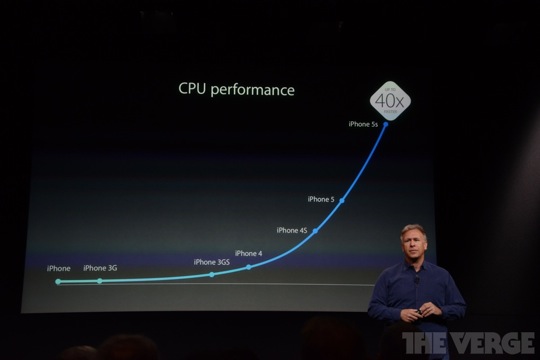 To showoff the graphics performance they showcased the epic conclusion of the Infinity Blade trilogy, which of course is Infinity Blade III. It will be available in the App Store alongside the new iPhone 5S.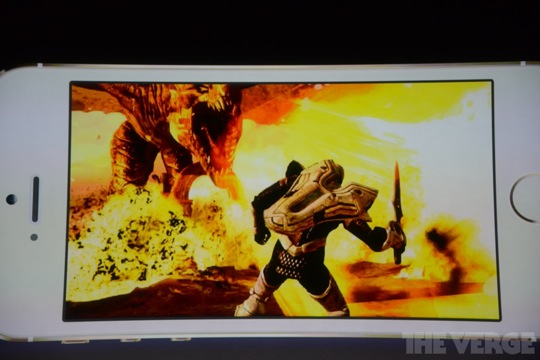 Also included alongside the A7 processor is a new M7 chip that is a motion co-processor. It measures the accelerometer, compass, and gyroscope. Developers can use this new chip with its new APIs to tell if you are stationary, walking, driving etc. Nike will be releasing a new app called Nike+ Move to take advantage of the new M7 chip.
Coming along to battery life we have 3G talk time: 10 hours. 10 hours LTE browsing. There is up to 250 hours of standby, which is better than the iPhone5.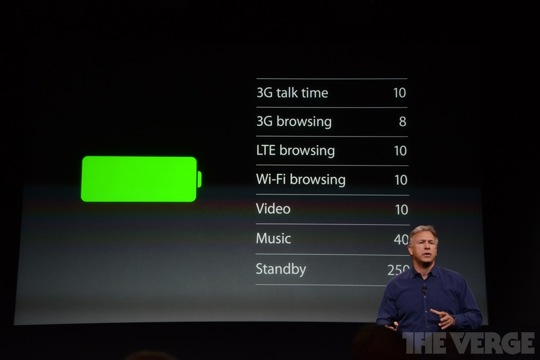 Next up is the camera. It features a new, five-element Apple-designed lens with an F2.2 aperture. The sensor has a 15 percent larger active area. When you take a photo, it actually takes multiple photos and picks the best as well. The Camera app sets white balance, exposure, creates a dynamic local tone map, autofocus matrix metering with 15 zones all automagically.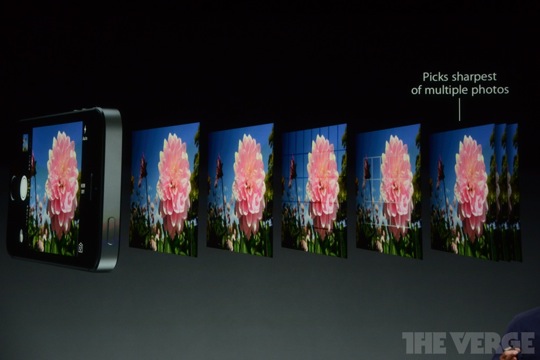 There is now also two LEDs, one is cool and white while the other is warm and amber. Apple can combine the two to get the right color balance out of the flash. The way it works is it takes multiple photos, combines them for light levels, but picks the sharpest one.
Among other things there is a burst mode (10 frames per second), HD (720p) slow motion recording at 120fps and a 28-megapixel panorama.
Now we come to the exciting feature of the iPhone 5S that has to do with security. Introducing Touch ID, which is a new sensor. It's 170 microns thin, senses 500 ppi and scans your sub-epidermal skin layers. It can read in any orientation.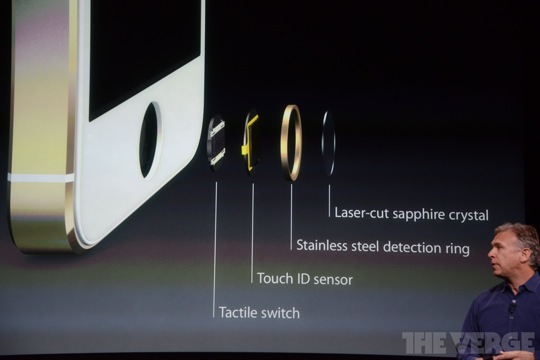 The new fingerprint reading sensor is of course integrated into the home button. It is made from sapphire so it won't scratch and the ring around the home button is just a "detection ring" which turns on the Touch ID sensor.
You can simply touch your home button to unlock your phone. You can also utilize Touch ID to say goodbye to ever entering your password again to buy content like apps or songs.
Fingerprints are encrypted and stored in a secure enclave. It's never available to other software and it's never uploaded to Apple's servers or backed up to iCloud. There is even support for multiple fingerprints.
The iPhone 5S will start at $199 for 16GB, $299 for 32GB and $399 for 64GB. Just like the iPhone 5C there will also be new cases at $39 a piece. The iPhone 4S is sticking around, at 8GB for free.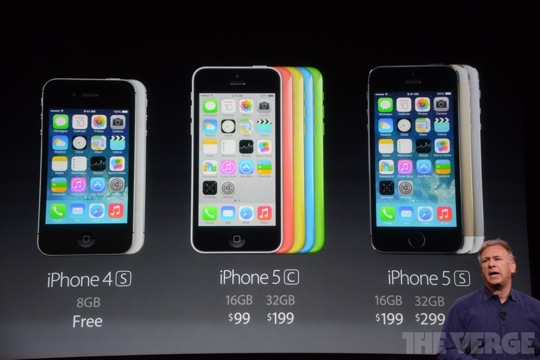 Pre-orders start September 13th and a week later, Sept 20th, you can purchase both in the US, Australia, Canada, etc.