For awhile there things were looking pretty bad for the state of the iOS 6 Untethered Jailbreak and even Jailbreaking as a whole. Over the last few weeks however, it looks like prominent developers such as Planetbeing and Pod2G have begun spending more time looking into the Jailbreak and have made some good progress. Only a few days ago we reported that both Planetbeing and Pod2G were able to make some 'nice progress' with the iOS 6 Untethered Jailbreak.
Now, Planetbeing has stated over Twitter that there has been a ton of progress made on the iOS 6 Untethered Jailbreak and that "the future is looking bright for Jailbreaking". This is obviously some great news, and hopefully means we can expect a public release shortly. More importantly however, I want to bring to your attention that fact that Planetbeing didn't just say the future of the iOS 6 Untethered Jailbreak was looking bright, but Jailbreaking in general. This could mean that there is numerous exploits that have been discovered that could potentially be used to future-proof iOS 6 Untethered Jailbreak when it is released.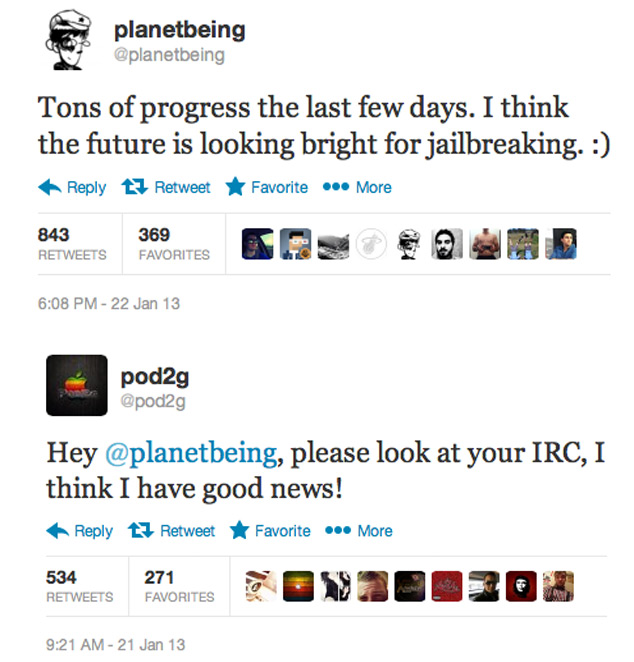 With Pod2G also tweeting directly to Planetbeing to check his IRC chat because he thinks he has some good news, one cannot but wonder how close the Jailbreak is to a public release. We will keep our eyes open for any additional information on the iOS 6 Untethered Jailbreak, until that time stay tuned and sleep well knowing an iPhone 5 Jailbreak could be closer than you think.