TaiG has released a new version of their iOS 8.3 jailbreak that fixes plenty of bugs that came with the earlier versions.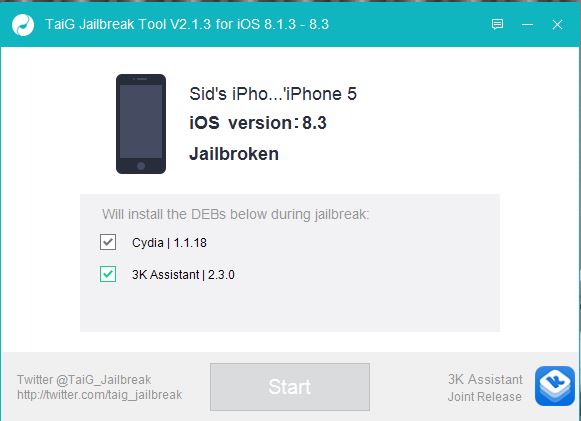 It is still a Windows only utility, but now the tool doesn't get stuck at 20 percent and includes the latest Cydia update with support for Substrate. Version 2.1.3 also includes several other bug fixes, the complete changelog can be found later in the post.
If you've been trying to jailbreak your iOS device but have been unsuccessful, then you need to download the latest version of TaiG right now. Here's what TaiG 2.1.3 fixes:
Fix the issue of getting stuck at 20% while jailbreaking.
Update the latest Cydia 1.1.18 and UIKitTools 1.1.1.0; fix the issue of icon missing after jailbreak.
Fix long startup time of iPhone 4s after jailbreak.
Fix the issue that TaiG Jailbreak Tool doesn't work on the virtual machine.
If you're using the TaiG tool for the first time, simply download TaiG 2.1.3 from our Downloads section and use it. If you've already jailbroken using a previous version, then do not go to use this version. It's better to restore and use this version.
Already jailbroken? Simply launch Cydia and refresh to find the new TaiG 2.1.3 untether. Upgrade and you should be good.