Some of you may remember Rock App fondly. Rock was an alternative to Cydia, probably the best alternative ever created in my opinion. It had a beautiful store interface, and supported all of the same repos as Cydia. Rock was praised for its speed, but took some dangerous shortcuts. After being open for only 18 months it was acquired by Cydia.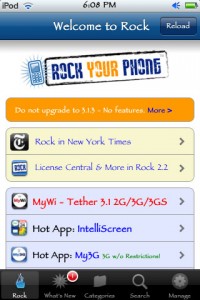 Rock was revolutionary when it launched. It featured a built in rating system that was hit or miss (we all know how brutal people can be online). Sources could refresh in the background, and you could find all of your licenses in one place. Rock, at the time, was a much faster alternative to Cydia because instead of downloading data from all of the default repositories, it only had one. Rock hosted all of its packages on one central server instead of connecting to numerous community sources. This was considered dangerous by Saurik, but it worked.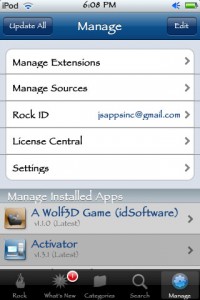 I loved the Rock interface. You could view all of the new apps and updates in the What's New tab, much like Cydia and there was a categories and search tab, of course. The manage tab is where Rock shined at the time. You could view and manage all of your installed tweaks and utilities, and view all of your purchased packages in a feature called "License central".
One hidden feature that not many people knew about was that Rock had its own desktop version for your computer. Although Rock closed after only 18 months, here are some fun facts to remember the Rock app:
 Number of Developers with apps listed in the Rock Store: 124 (from 19 countries)
 Unique iOS devices that installed Rock: 4.6 million (from 220 countries/territories) – Wow that is a lot of places!
Registered Rock Users: 2+ million
Number of App licenses sold: 500,000
Users of who took the plunge and bought something: 280,000 (from 185 countries)
Users who said screw it and installed a hacked version instead: 38 billion
Total Rock Your Phone Store Sales (March 12th, 2009 – September 2010): $3.3+ million
Number of Rock Employees (we are using the word employee loosely here but, hey, it is our company): 9
I miss Rock, but Cydia has made leaps and bounds of progress in the last couple years. Did you try Rock? Leave your opinions below!