If you are an avid jailbreaker, you may have been concerned by the lack of a iOS 6 untethered jailbreak and by the reports you've been reading over the past couple months. One recent story is the #weWantAnOpenIOS trend that Pod2g started on Twitter, as a prompt for Apple to provide developers with a more powerful API which would allow them to publish MobileSubstrate-style interface tweaks for iOS devices.
Vocal users on Twitter were concerned that this was a sign of defeat. That since a prominent developer like Pod2g was asking Apple to allow tweaks and mods on their platform meant that the iOS hacker scene will not regain the ability to modify the platform themselves. While we've heard scary comments from Joshua Hill calling the state of the iOS 6 jailbreak grim and Stefan Esser's assessment that iOS 6.1 is even tougher to break into, Pod2g now clarifies that his intent wasn't to raise the white flag.
Keep in mind that English isn't Pod2g's first language. He is a french developer, recently known for his work in the iOS 5.1.1 Absinthe jailbreak.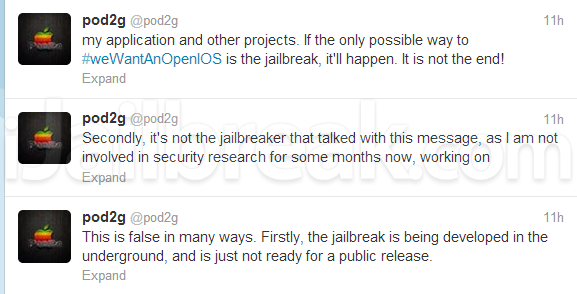 This is false in many ways. Firstly, the jailbreak is being developed in the underground, and is just not ready for a public release. Secondly, it's not the jailbreaker that talked with this message, as I am not involved in security research for some months now, working on my application and other projects. If the only possible way to #weWantAnOpenIOS is the jailbreak, it'll happen. It is not the end!
The bottom line: Pod2g says he wasn't actively working on the iOS 6 jailbreak, so he wasn't in a position to give up. Instead, he seems to think it would be in Apple's best interest to offer more capabilities to developers on its platform.
Do you think Apple should be scrambling to support programs beyond sandboxed apps, such as tweaks, widgits, plugins and interface mods–or are there other concerns like simplicity and security that would get in the way? Share your thoughts in the comments section below.