While both Android and iOS both have homebrew communities, they are very different from each other. In fact, I was in for a big surprise when I got into Android Rooting.
One cannot argue the fact that jailbreaking an iOS device is a lot more popular and well known than rooting any Android device, but what community is better? It's an opinion based question, and I'll try to discuss the major parts below.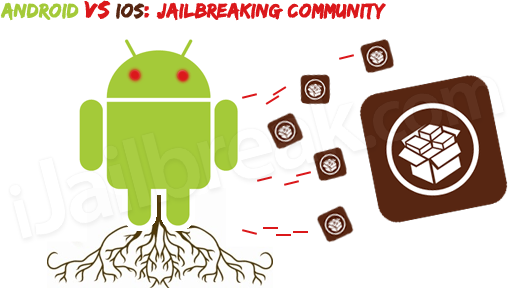 Rooting/Jailbreaking Tools:
iOS jailbreaking has come along way. It started out as web-based JailbreakMe style tools, then went to command line tools that ran on your computer. After that came the One Click tools and the rebirth of JailbreakMe. The tools are generally very stable and work the same across all devices. They are graphical and even the average user should find them incredibly simple. Android is a different story, however. There are hundreds of Android handsets, therefore it would be practically impossible to create one tool to root 'em all. Many root tools are still command line. Sure there are some easy, graphical roots, but they are scarce these days. Documentation is out there to root your phone, (check XDA forums) but it is defiantly a more daunting task then the iOS jailbreaking tools.
Winner: iOS
Jailbroken Installers:
iOS has Cydia. I don't know of anyone who is jailbroken who doesn't know what Cydia is. Unless you manually install .deb files, Cydia is how you get all of your jailbroken packages. For better or worse, it is a monopoly. Android doesn't have a jailbroken installer, frankly because it doesn't need one. I am always asked if Android has a Cydia type app, and I have to say no. Android doesn't need one simply because Google allows these apps that require root privileges into the regular market. Due to Android's "Openness" you can get these apps from anywhere.
Winner: Tie (User Preference)
Jailbroken Content Available
Cydia has jailbroken content that can't even be matched today. It is full of thousands of Theme's, Tweaks, Apps, ect. There are hundred of packages that are worth installing. Android on the other hand has about 10 apps, (In my Opinion) that need a root. This is a huge difference, but we have to come back to the fact that Android is a lot more open. Google allows Widgets, Themes and some tweaks by default.
Winner: iOS
Is it worth jailbreaking my iOS Device? 
The answer to that question is 100% yes. Even the average user can find something in Cydia that can make a huge difference to their device. It's a very simple process, with so much more content available. So why wouldn't you? It's legal, and more stable then ever. This community is growing faster than ever, and I'm excited to see what comes out of it.
Is it worth rooting my Android Device?
It depends who you are. If you are a tinkerer that wants to make every part of your device yours then yes. You can only browse the Root files, use free Wi-Fi tethering and install custom Roms after this process. For a lot of users these things are essential, but if you don't need some of these things you have no need. This being said, the Rooting Community is growing fast, and there is plenty of friendly people willing to help you through the process.
Please share your thoughts about iOS Jailbreaking vs Android Rooting in the comments section below.