Pandora Downloader is a free application that can be downloaded by adding the free repo source "http://cydia.xsellize.com" within Cydia.
Myself and others still use this application to save Pandora songs. I am running the application on a jailbroken iPhone 5 running iOS 6.1. Right now the application is a little buggy and needs an update. Pandora Downloader still provides a way to skip Pandora songs without ads and download songs from Pandora. If you know how to SSH into your iPhone the user can transfer the songs from Pandora Downloader to a computer, into iTunes and sync it back to an iDevice as well.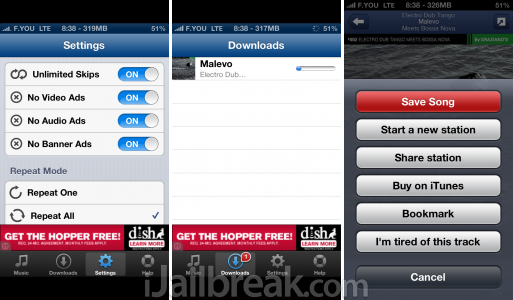 The files can be found in this directory:
var/mobile/media/Pandora
While the application was made to skip all ads I have found upon opening Pandora for the first time the user will see an ad. Once the user closes the ad you can continue to skip songs. Hopefully an new update will come soon to correct this.
Bugs You May Encounter
An ad will appear the first time a user opens Pandora.
If a user has saved over 100 songs and you scroll up and down a lot you may encounter the application to quit unexpectedly. You can still go back into the application afterwards.
The application may take you back to the lock screen. I've witnessed this from rewinding, fast forwarding and then pressing the home key when running multiple applications at one time.
I have noticed ads appearing in Pandora as well, or a pop up to retry the download. I provide a solution.
Helpful Hints
I would not use Pandora Downloader for the soul purpose to play music. The application itself has ads and if you play a song and go back to your music list the song will stop. If you find yourself with a music list of 25 or more songs I would transfer the music over to iTunes and sync it to your iPhone.
If you notice any issues with Pandora Downloader or Pandora bringing up the multitasking bar, quit both Pandora and Pandora Downloader to start the process over. Sometimes the user only needs to quit Pandora Downloader from the multitasking bar.
If you are using a Mac and notice any .aac files or iTunes not recognizing the song, use a free application called MediaHuman Audio Converter to convert the audio file to .mp3. I found it to be better than Switch.
Enjoy downloading your favorite songs from Pandora.