If you had the pushfix.info source added to Cydia you may have noticed a new tweak called TCP Optimizer. This tweak is proposed to increase WiFi speeds while browsing the Internet; especially while using the YouTube.app! Now a lot of times with certain tweaks, like this one, people do not understand the terminology in the tweak name or really do not understand what exactly the tweak does to increase WiFi speeds. So, first things first – what is tcp?
TCP (transmission control protocol) enables two hosts (your iDevice and your wireless router) to connect to one another and exchange streams of data. The protocol ensures that the data is transferred and guarantees that the data is received in the same sequence in which it was sent. This is done by breaking information into small packets of data and reassembling it at the other end.
Naturally your iDevice uses TCP every time you are connected to the Internet in order to provide you a stable WiFi connection. The tweak TCP optimizer will essentially optimize this process and this speeds up any Internet related activity on your iDevice while you are connected to the Internet. This is done by changing some TCP parameters on boot.
Now the big question with tweaks that are proposed to increase speeds, in whatever way, is do they actually work? For me the answer was absolutely yes! I was and still am very impressed with how much faster I am able to browse the Internet and stream content while I am connected to a WiFi network. I experienced speed increases of up to 2x and am amazed at how well this tweak actually works.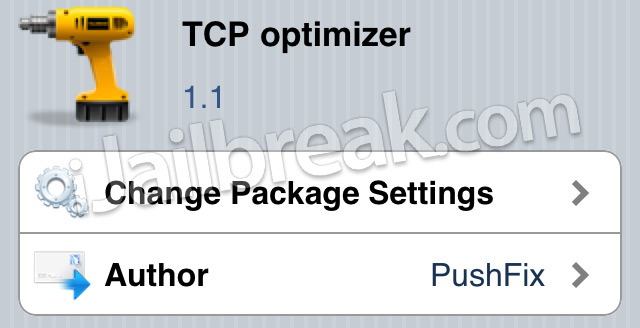 If you are interested in the TCP Optimizer tweak you will need to add the following source (Manage > Sources > Edit > Add):
http://cydia.pushfix.info/
Sometimes tweaks come along that really remind me why I jailbreak; TCP Optimizer is now one of those tweaks. Let us know how TCP Optimizer worked our for you in the comments section below. I know this tweak has gotten mixed reviews with people around the Internet.
Note: You must reboot your iDevice after first installing this jailbreak tweak.