The TapTapFolder tweak touched down on Cydia today and when it did I was very excited to share it with you guys. Essentially what TapTap Folder does is makes it so when you tap on a folder it will launch the first application inside that folder. It also changes how folders look by showcasing only one app icon, the app icon of the app it will launch.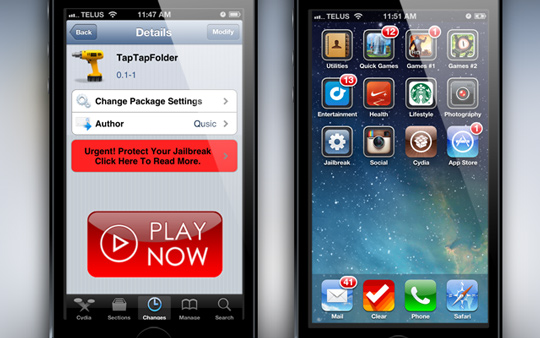 Now you might be wondering if tapping on a folder now opens an app, how do you access the contents of the folder to launch other apps… And the answer is simple. You simply double tap the folder to actually go into the folder view.
There are no options to configure with TapTapFolder, you simply install the tweak and it gets to work. As far as I know this is the first time a tweak has been released to bring about this functionality and to be honest I love it. I can safely say this will be one tweak I will be keeping installed.
If you are interested in TapTapFolder you can find it on the BigBoss repo for free. Let us know what you think of the tweak in the comments section below.