How would you like to bring the weather and other subtle changes to your iOS 7 lockscreen?
SubtleLock (iOS 7) moves your clock up to the left hand corner and the date to the upper right with a smaller font, making the lock screen appear modern and less cluttered.
After installing SubtleLock users will find its preference pane in general Settings where there are a host of options to choose from. There are three sections: Clock, Sliders and Miscellaneous.
Some of the obvious options to choose from are to turn on or off the clock, show seconds, and  hide or show the slider. Then theres the ability to change the label colors, hide the date, hide the camera button, hide the Control Center and Notification Center grabbers, without having to re-spring your device.

SubtleLock (iOS 7) can be found on the BigBoss repo, is $1.00, but is a free upgrade to those who already own SubtleLock.
Forecast is developed by David Ashman which looks like it takes design cues from the stock Weather application in iOS 7. The tweak replaces the slide to unlock and provides a weather widget in the bottom left hand corner displaying the current weather condition and dynamic wallpapers. Users can also swipe left on the lock screen to display a more detailed weather forecast, just like they can if they open up the weather application.
The forecast tweak offers a preference pane in general Settings where users can show their current weather or the first manually-set weather location from their weather application, enable or disable the forecast page when swiping to the left, and darkening the wallpaper for easy visibility if the wallpaper is too light. The tweak also offers the ability to display animated weather wallpapers based off their current weather conditions on the Lockscreen or Homescreen.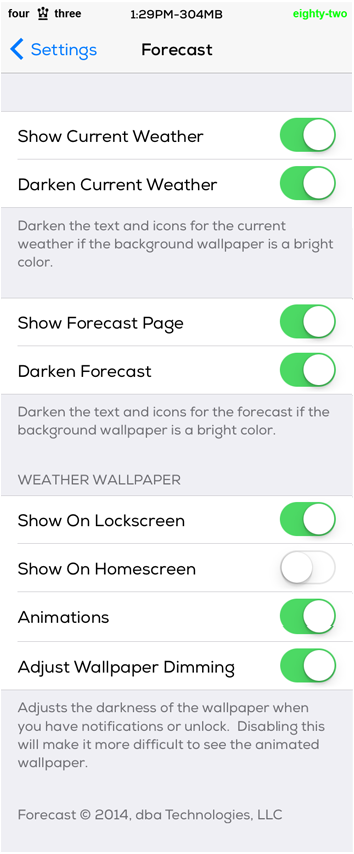 Forecast can be found on the ModMyi repo for 99 cents or its a free upgrade to anyone who has the previous version.
Let us know what you think of these two tweaks in the comments.