Simple Mode was  released on Cydia recently which is another lockscreen launcher tweak. Now before you cringe because we have seen so many lockscreen launcher tweaks, this one does stand out from the crowd, which is the reason I am even writing about it.
Essentially what Simple Mode does is adds a tiny little arrow button on top of the slide to unlock bar that upon tapping will bring up 5 of your most frequently used applications.
That's right… instead of having to manually set which applications appear in the quick launch area they are pre-chosen for you based on your app usage. You can of course also manually set which applications you want to appear right from the tweak's preferences panel and even prevent certain apps from appearing altogether.
There is even the option to select an app to always launch when you unlock your device. That is really all there is to the Simple Mode Cydia tweak.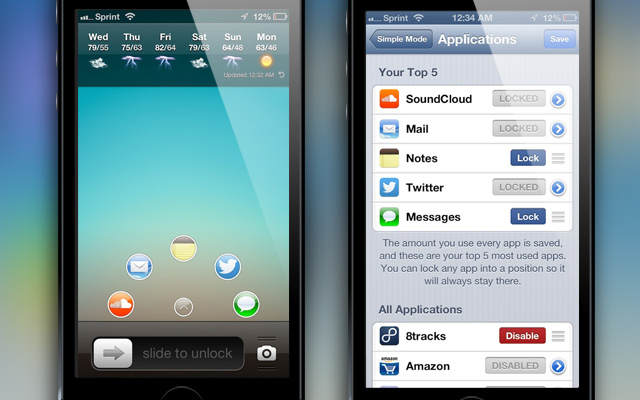 It is compatible with the iPhone and iPod Touch running iOS 6.0 and above and can be downloaded from the BigBoss repo for $1.99. If you already have a lockscreen launcher tweak then Simple Mode probably isn't for you, but having apps pre-populate based on popularity is a useful functionality to have.
Be sure to share your thoughts on the tweak in the comments section below.