The Reminisce Cydia tweak was released today and although at first glance you may take the tweak for another App Switcher alternative it is so much more!
What the Reminisce Cydia tweak brings to the table is a quick way to switch between 5 of your most recent apps that you have opened by simply swiping from the edge of the screen and holding your finger over the application you wish to launch.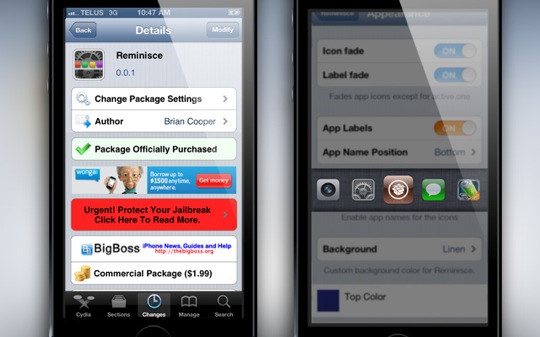 It is much quicker than double tapping the home button to bring of the stock App Switcher, and you should think of Reminisce as more of a new way to multitask on your iOS device. There is indeed a preferences panel included with Reminisce that allows you to configure everything from Animations, Behaviour and Appearance.
Let's start with Animations. From the animations tab you can first choose between the Animation style which right now includes Push and Flat. There is then the option to configure additional settings associated with the Flat animation and the animation for the icons. My personal favorite animation is Push with Grow as both the Icon Animation Style and Label Animation Style.
From the Behaviour tab you can enable or disable the tweak, choose the side you want the swipe gesture to work on (optimized for either a left handed person or a right handed person), toggle the alternative Up/Down swipe to open gesture, stop certain apps from being shown in the Reminisce switcher or use an Activator action of your choice to activate the Reminisce switcher.
In the Appearance tab you are able to control how the tweak looks by toggling blur outside, dim outside, icon fade, label fad, app labels, the position of the app labels and whether or not to have a background color.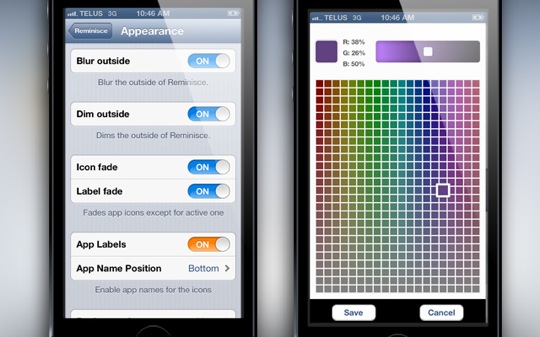 Reminisce is a Cydia tweak I would without a doubt recommend because it boosts your productivity dramatically and you can find it in the BigBoss repo for a price of $1.99. It is worth every penny trust me! Let us know what you think of the tweak in the comments section.