The AppSwiper Cydia tweak was recently released and it allows you to have fine control over which applications are running in the background of your device. This is handy because you can use it to consistently see which apps are taking up most of your devices RAM.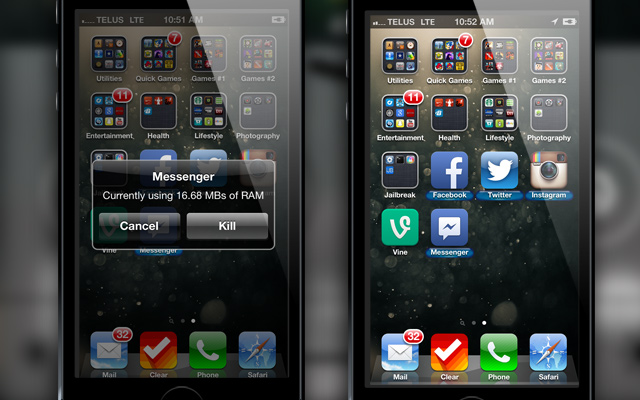 You see when an application is running in the background there will be a highlight over the app's label. If you tap and swipe up on an app's icon a popup window will appear letting you know how much memory (RAM) the app is using and give you the option to kill the app or cancel.
It is a great tweak for micromanaging all of your running applications and can save you some battery life because you can quickly understand which applications use up the most RAM on your device.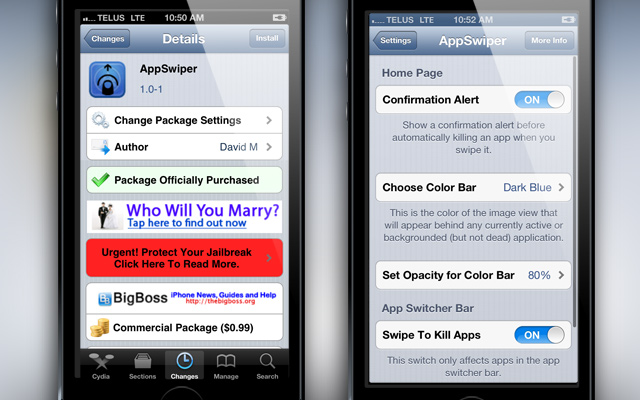 There is indeed a preferences panel associated with AppSwiper which includes:
Confirmation Alert: Toggle whether or not you want a confirmation popup window to appear.
Choose Color Bar: You can change the color that will highlight apps running in the background from Dark Blue, Light Blue, Red, Pink, Black, Dark Green, Light Green and Yellow.
Set Opacity For Color Bar: With this option you can set how strong you want the color to be, a lower percentage indicates a lighter color and of course a higher percentage indicates a stronger color.
Swipe To Kill Apps: This option brings the Auxo-like gesture of swiping to kill apps in the App Switcher.
AppSwiper is certainly a worthwhile Cydia tweak that you should check out. It is available for only $0.99 in the BigBoss repo. Let us know what you think of the tweak in the comments section below.