RecognizeMe was the first ever Cydia tweak to bring facial recognition to all our jailbroken iOS devices. It was released in the month of May last year and was like a beta version. It did work and gave extra security to your iOS device, but had flaws and was very slow. Also, back then, it wasn't made for iOS 5 and nor did it work properly on all devices.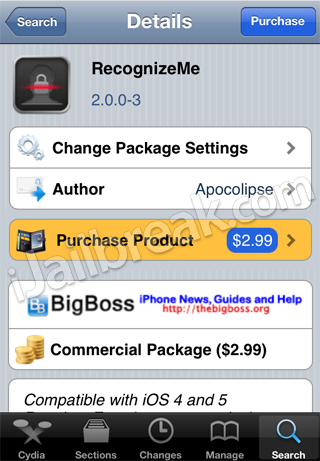 Developer Apocolipse has now released an update for this tweak, which is not just iOS 5 compatible, but also gets many bug fixes to make it perform better and faster. All you have to do is, set up the facial recognition using a training and settings app and that's it. Next time you unlock your iOS device, it will ask for your face, scan it and if it recognizes, it will let you in.
RecognizeMe 2.0 adds the following new features along with support for iOS 5:
 iOS 5 CoreImage Face Detection added to vastly improve detection time, which improves overall Recognition and speed!!
New Animations to see how RecognizeMe see's your face! (Even on iOS 4 where CoreImage Face Detection is not available!)
Speed Improvements
Tweaks to recognition algorithm better matching features
Improved clarity of incoming camera stream across all devices
Added AutoStart on unlock feature (starts RecognizeMe upon swipe-to-unlock)
All artwork updated
You can download RecognizeMe 2.0 from the BigBoss repo for $2.99. Remember, this only works with iOS devices that have a front facing camera and that are jailbroken. Try it out and let us know how you like it in the comments section below.