WhatsApp is a really popular instant messenger that is available on almost all platforms, iOS, Android, Windows Phone, Symbian, Blackberry etc. For iOS users with a jailbroken device, this new tweak will help you reply to WhatsApp messages from anywhere on your device. Even from the lockscreen.
Quick Reply for WhatsApp is a new tweak developed by the same developers who brought us the BiteSMS app. The tweak lets you easily reply to WhatsApp messages from the Notification Center, the lockscreen or even from an alert. Once installed, you'll want to change the Notification style of WhatsApp to Alerts from the Settings app. From the lockscreen, you can just slide to instantly reply to the text, no need to enter WhatsApp app.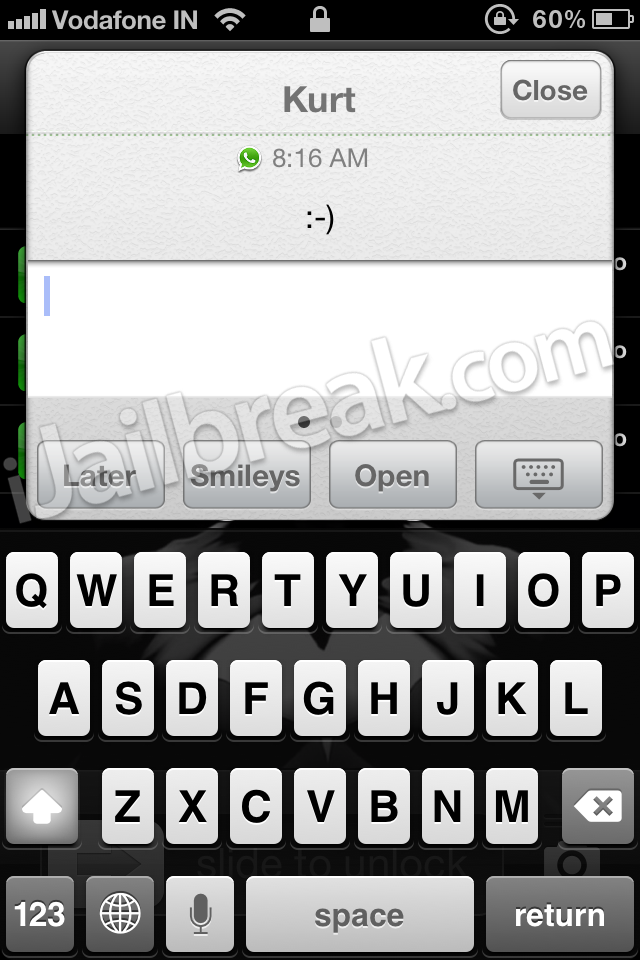 Send instant replies, add Smileys and more from anywhere in iOS. The Quick Reply for WhatsApp tweak is available in the BigBoss repo. You can try the tweak for free until the 7 day trial ends. After that, you'll need to pay $1.99 for a one year subscription. Try the tweak and decide for yourself, if you really need it. I believe it can be quite useful. What do you think?