Quick Player For Notification Center isn't the only Notification Center widget for music controls, but it is another option. The benefit of having music controls in the Notification Center is that the access is instant. When using the music controls on the app switcher dock, you have to tap the home button twice (which can be unreliable on the iPhone) and then swipe to the right along the dock. There's just more space to share inside the Notification Center.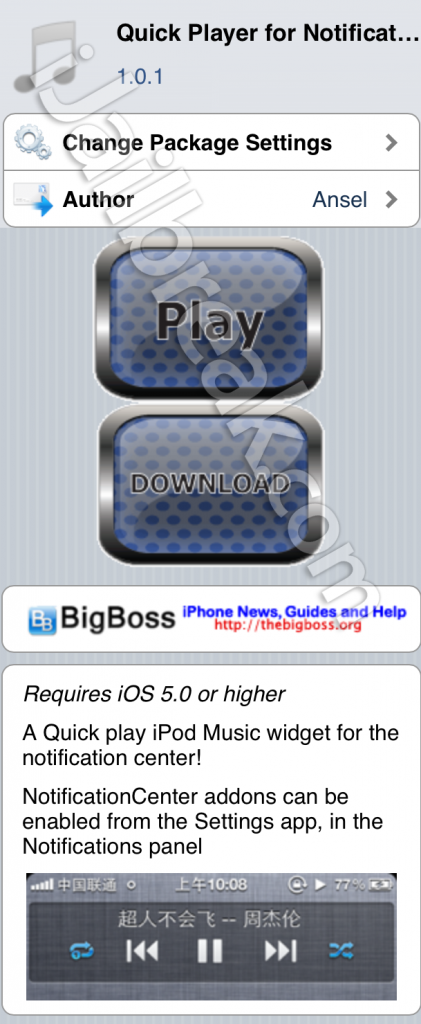 Quick Player is a barebones music app. It displays the track name, the band, backwards and forward skip buttons buttons, as well as options for shuffle and repeat.
One unusual quirk in Quick Player is button responsiveness. With most buttons on the iPhone or iPad, presses are registered instantly. If you quickly tap on the buttons in Quick Player, as you may be used to in the standard music app, the presses won't register. You have to hold down the buttons for a half-second before they reacts. When I tried this at first I thought the button mapping was off.
Speaking of "off," Quick Player works on the iPad, but isn't centered, as if it was just mapped for the iPhone.

There are better music apps available in Cydia. The gold standard is Music Control Pro, which includes support for a Notifications Center widget, its own music control dock, lock screen gestures and remote playback. Where Quick Player has the edge is price, as Music Controls Pro costs $5.99 and Quick Player is absolutely free. At this price point, its competition is Now Playing For Notification Center, which swaps out the shuffle/repeat options for album art and Twitter/Facebook integration. Take a look and decide which widgets you prefer.
QuickPlayer for Notification Center can be installed through the BigBoss Repository on Cydia.
What is your favorite music widget? Share your thoughts in the comments section below.