PcSMS: Reply And Compose SMS Messages Inside Applications
With the PcSMS Cydia tweak you can compose SMS messages and also reply to SMS messages directly inside any application.
The tweak works by providing a notification which slides down from the top of the screen upon receiving a new text message. When this notification appears you then have the option to dismiss the SMS message or reply to the SMS message. You can then open a dashboard to view dismissed SMS messages, or even compose a new SMS message from scratch using Activator commands.
Another neat option with the tweak is the ability to send SMS messages from your computer. In order to enable this you must simply download the PcSMS client for both Windows and Mac OS X operating systems.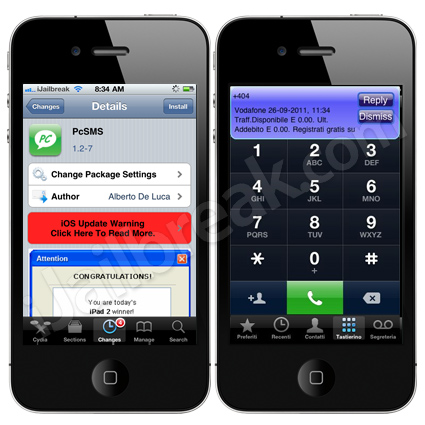 If you are interested in PcSMS you can find it through the BigBoss repo for free.
UnlockBright: Brightness Transition Effect Upon Unlocking
With the UnlockBright Cydia tweak you can set a specific brightness to transition into as you slide the slide to unlock button upon unlocking your iPhone, iPod Touch or iPad. Upon successfully sliding the slide to unlock button and actually unlocking your iDevice the brightness will return to normal.
While many of you may turn your noses to such a tweak, like many small Cydia tweaks, it does have its uses. Such quickly checking the time, date or even a notification (in the iOS 5 firmware) during a time where your current brightness setting may not be appropriate (such as during the night).
If you are interested in the UnlockBright tweak you can find it through the ModMyi repo for free.
ActivAccess For Activator: Enable Accessibility Functions Through Activator
With the ActivAccess for Activator Cydia tweak you can toggle numerous accessibility functions through Activator such as Inverting Colors, Enabling VoiceOver, Zoom support and much more. The ActivAccess for Activator tweak will also add several actions to Activator used for toggling the various accessibility functions available in the iOS operating system.
In case you were curious the following Accessibility Functions are present in Apple's iOS operating system.
VoiceOver
Voice Control
Zoom
White On Black
Speak Auto-Text
Tactile Buttons
Large Fonts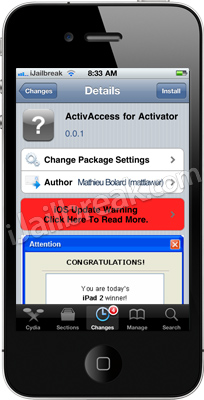 If you are interested in ActivAccess for Activator you can find it through the BigBoss repo for free.
DictGoogle: Adds Option To Search Google Instead Of iOS 5 Dictionary
New to the iOS 5 firmware is the Define feature. This feature works by tapping on any word and clicking the Define button. The iOS 5 firmware will then search the built in dictionary for the word you wish to define. With the DictGoogle Cydia tweak you can even add extra functionality to this Define feature.
You see, the tweak adds an extra option while using the iOS 5 firmware's define feature. This extra feature is a button that allows you to search Google instead of the iOS 5 firmwares dictionary.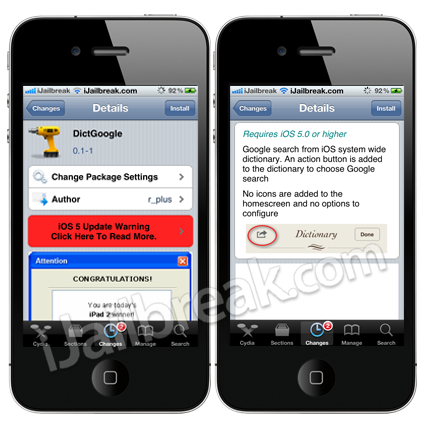 If you are interested in DictGoogle you can find it through the BigBoss repo for free.