PasswordTime is a tweak that touched down on Cydia recently that is worth your time if you missed it. Essentially the tweak allows you to disable the passcode during specific time intervals, say after you get home from work. It could the re-enable itself before you go to work the next day.
Although it is no the most secure solution, if you aren't protecting national intelligence I think you will get by just fine and enjoy the added convenience.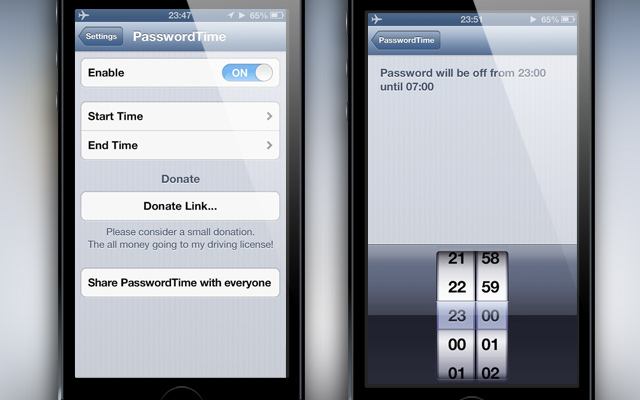 Upon downloading PasswordTime you will be able to configure the start time and the end time of the passcode (the time between the two intervals is when the passcode will be off) and also toggle the tweak on and off.
There are a few minor hiccups with PasswordTime at the time of writing this article such as glitchy input with the numeric keyboard layout on the lockscreen. But I am sure the developer will fix this issue and improve the tweaks stability in a future update.
If you are interested in PasswordTime you will be glad to know it is available for free in the BigBoss repo. Those that like the concept of this tweak you may also like CleverPin.