Overachiever: Auto-Fill Game Center Achievements
I'm not the best at iPhone games and my friends who are iOS gaming addicts brag way too much about their gaming achievements. The solution? Install the Overachiever Cydia tweak to my iPhone and make my Game Center account look like I'm a gaming professional. The tweak is pretty much a 'cheat' that can unlock all the achievements in every single iOS game you could imagine and it doesn't even show that you used this cheat.
When you install it, it will add its own tab inside the Settings app. In this tab, you can flick switches to enable all the achievements in the iOS games you have; it's simple. Once you flick the switch though, it's irreversible. This because it writes the data to Apple's servers.
If your interested in the Overachiever tweak you can find it in the BigBoss repo for free. To be honest, I personally don't like this tweak as it ruins the fun of iOS multi-player gaming. But regardless, let us know what you think about it in the comments section below…
MusicBanners: Get Notification Alerts For Track Changes
A new Cydia tweak by the well-known developer Ryan Petrich, who has brought us so many other useful tweaks, gives iOS 5 styled notification alerts and banners for track changes. This tweak is called MusicBanners and will give you notification alerts when you change a song through the official Music.app. While many people may not take a liking to this Cydia tweak, it's pretty useful, though there isn't much this app actually does.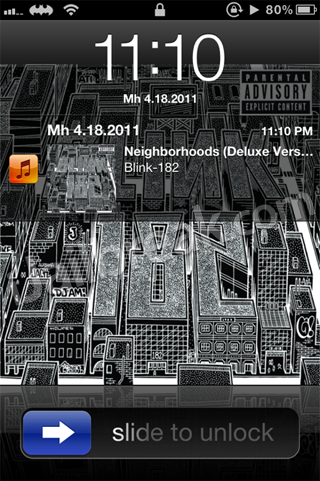 Suppose your iOS device is locked and your Music.app is running in shuffle mode. What if you hear a song and don't know who its artist is or what the name of the album is? Instead of unlocking your iOS device and going in to the Music.app, the tweak will give you an iOS 5 styled notification right on your lockscreen. The notification has the album artwork, name of the artist, album name and the time when it started playing. If you're on the homescreen, then you will get a banner styled alert when the song changes. You can also access the notification in the Notification Center.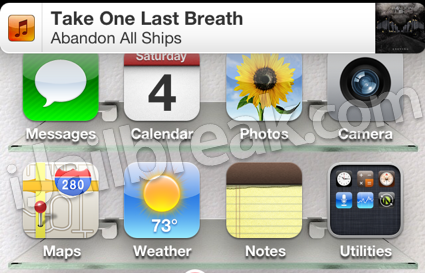 MusicBanners is currently available in the BigBoss repo for free. Try it out and tell us what you think of it in the comments section below. Do you find it useful?
Bookstand: Stack Your iBooks And Newsstand Magazines Together
Newsstand is one of the many new features in iOS 5, an app that stores all your magazines, periodicals and news-papers. Then there's the good old iBooks, which stores your e-books. Wouldn't it be better if you could just store all of those in one single app, so you could have access to them just by opening that single app.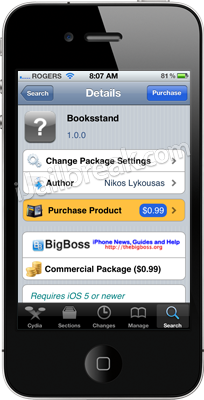 Bookstand is a new Cydia tweak that does exactly that. It combines both your iBooks and Newsstand collection and stores it in the Newsstand app. This way, when you launch the Newsstand app, you will have access to all your favorite e-books, magazines etc. No need for you to open another app to read e-books. After all, Newsstand isn't that different from iBooks.
That being said, Bookstand doesn't really open iBooks content in the Newsstand app, instead it places a shortcut to it. Nevertheless, it's a much better solution than switching between apps.
Bookstand is now available in the BigBoss repo for $0.99. For some, this is entirely unnecessary, but for others it might prove useful. Will you be using this tweak on your jailbroken iOS device?
SlideMyName: Change Slide To Unlock Text To Your iOS Devices Name
Are you bored of the default "slide to unlock text" that you read every time you unlock your iOS device? Well, if you are, then you will be glad to know that with the SlideMyName Cydia tweak you can change the default "slide to unlock text" to that of your iPhone's, iPod Touch's or iPad's name. Simply install the tweak and the name of your iOS device will automatically be shown on the lockscreen slider area.
Tip: You can actually change your iOS device's name directly from the Settings.app by going into General > About > Name.
If you are interested in the SlideMyName tweak you can find it through Cydia via the BigBoss repo for free.