Being a bit of a tech nerd when I saw NCTerminal make its way onto Cydia today I knew I had to take it for a spin. By the name of the tweak I am sure you can guess what it does: It adds a terminal to the Notification Center.
After purchasing NCTerminal I installed it to my iPhone 5, went into the Notifications tab, made the widget active and brought down the Notification Center to test it out. All that the widget is, is a black text field where you can begin typing commands.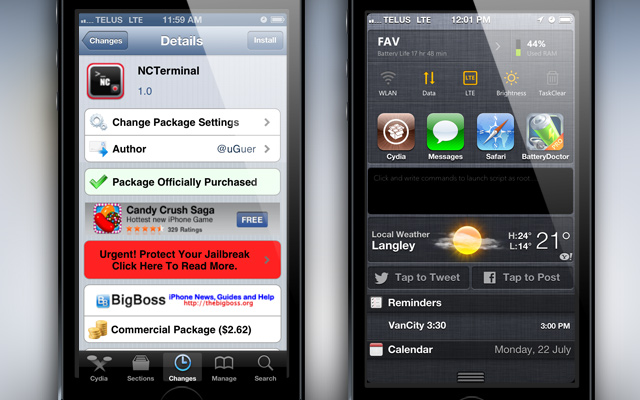 To my disappointed I tried changing my root password and it didn't work. I also tried some other simple commands and no dice. I am not sure whether or not the tweak still has some bugs that need to be worked out or if it actually wasn't mean to do the commands I was trying. The developer notes on the depiction page that it can be used to execute scripts in the background, so maybe I misunderstood what the tweak does.
There is a preferences panel associated with the Notification Center widget that simply contains a description of the tweak and a link to his social media profiles.
If you are interested in giving NCTerminal a spin you can find it on the BigBoss repo for $2.62. Let me know if you are able to get it to work in the comments section below.