NCEnough is a neat little tweak that was released over the weekend, bringing some customization options to the iOS Notification Center. The biggest change it brings about is that it makes the Notification Center only as big as the available content; that is, the Notification Center will dynamically resize itself according to the amount of content needed to be shown.
If there is only enough content for the Notification Center to take up half the page, for example, then it will only take up half the page and leave the other half visible. There are also some other neat customization options that can be found in the Settings app that include the selection to place the status bar on the bottom of the Notification Center and the ability to change the color of the background of the Notification Center. There are 5 color options including a randomize option that will alternate between the color options and default linen background.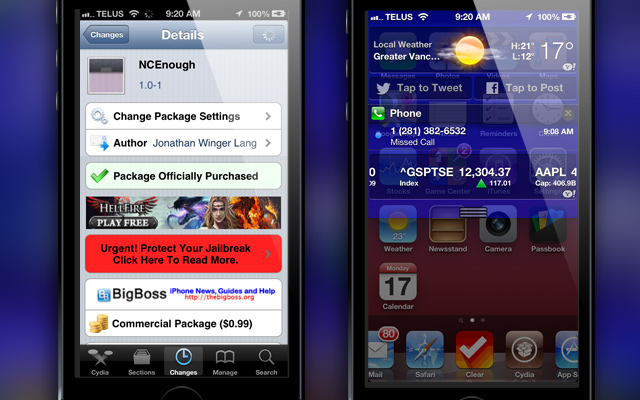 You can also play around with the alpha transparency if you have a color set as the background. This option will not work with the default linen background.
Finally you can adjust the width of the Notification Center with multiple sizes you can play around with. Just be careful when playing around here, as certain widgets don't support a narrow notification center.
NCEnough is actually a really great tweak that I suggest you guys check out. Giving the notification center the ability to intelligently resize itself is a great feature to have, and the other customization options are a wonderful addition to the tweak. If you are interested in NCEnough you can find it on the BigBoss repo for 99¢. Be sure to let us know what you think of the tweak in the comments section below.