If you are looking for a good tweak for your freshly Jailbroken iPad running the iOS 5.1.1 firmware then you should check out MountainLionCenter. What the MountainLionCenter Cydia tweak does is essentially bring the upcoming OS X Mountain Lion's Notification Center to your iPad. Meaning that to bring up the Notification Center you must swipe to the right with two fingers from wherever you are.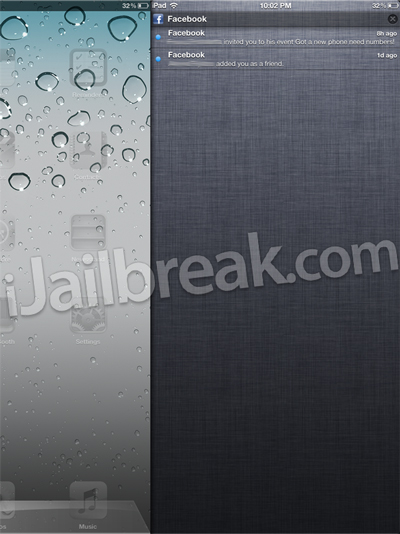 After playing around with this tweak for a little while I can conclude that it actually ends up feeling more native than the way the current iOS 5 Notification Center is handled (in my opinion anyways). If you install MountainLionCenter on your iPad I am sure you will agree as well.
Another feature that the MountainLionCenter Cydia Tweak brings to the table is full-wdith notifications. As you can see in the developer's screenshot below, notifications will span the full width of your iPad's screen.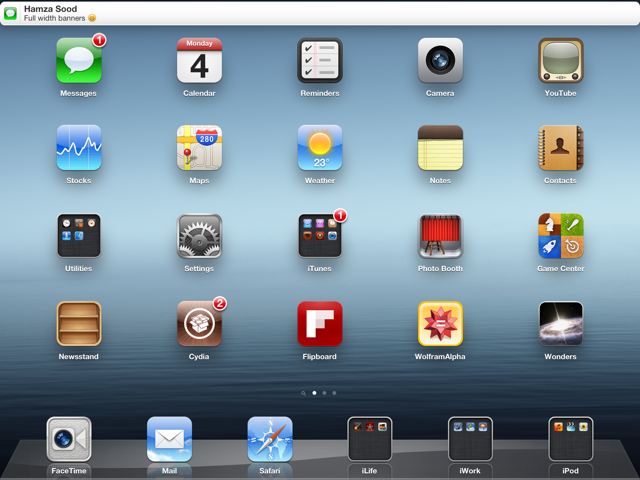 So there you have it, that is the MountainLionCenter Cydia tweak in a nutshell. If you are interested in this Cydia tweak then you can find it for FREE through the BigBoss repo. Don't forget to share your thoughts about the tweak if you decided to give it a try in the comments section.