Do you listen to music on your iPhone, iPod Touch or iPad a lot? If so, have you ever heard a song which name slips your mind? Instead of having to grab your iOS Device out of your pocket or awake it from sleep to see what the song is called and who it is by, wouldn't it be great if the track name and artist was read to you?
The developers of the MediaSpeak Cydia tweak thought so as they have developed MediaSpeak to do just this. Meaning whenever a new song begins playing or you switch the currently playing track your iOS Device will read the name and artist of the song out to you.  After playing around with MediaSpeak for a little while I must admit it is a pretty neat idea. It does however, need some improvements because it tends to lag behind when skipping through numerous songs.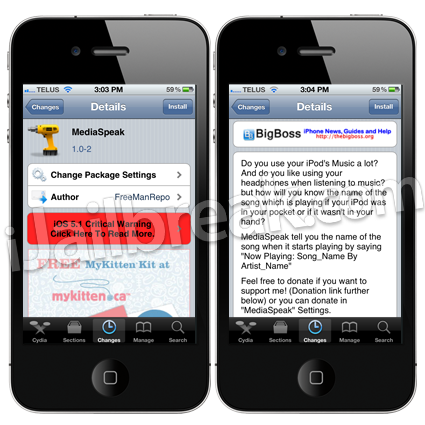 If you are interested in the MediaSpeak Cydia tweak you can find it through the BigBoss repo for FREE. Don't forget to let us know what you think of the tweak in the comments.