Have you noticed that the icons underneath the app switcher cards move as you scroll between the apps that are currently open in iOS 7?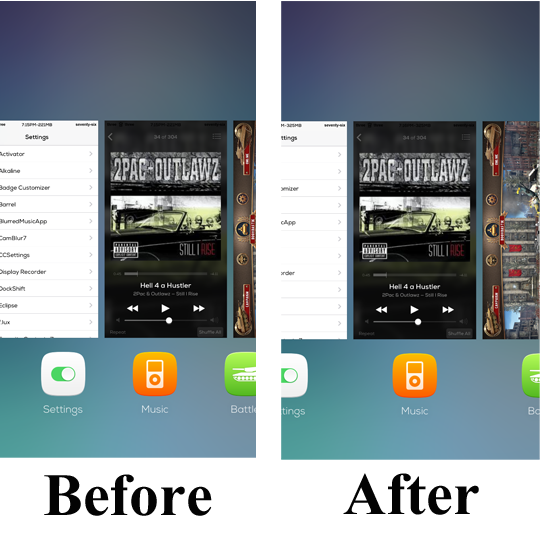 LockToCell is a tweak developed by Brogan Miner which locks the icon in the center, underneath the application preview in the multitasking view which makes the spacing even and stays the same even when scrolling.
After installing the tweak there are no options to configure and you can find LockToCell on the BigBoss repo for free. Some may find that they miss the dynamic spacing in the iOS 7 app switcher, but at least they can give it a try without having to pay any money to download the tweak.
Would you like to display the applications that are currently open in multitask in a grid?
GridSwitcher is developed by tom-go which places more preview cards in the iOS 7 multitask making it easier to view more applications at one time. Users will notice they can swipe up to quit one or more running app with one or more fingers. The tweak works on iPhone and iPad currently running on iOS7, giving a 2×2 grid for the iPhone and a 3×3 grid for the iPad in the app switcher.
After installing the tweak there are no options to configure. It looks like there may be options added in the near future allowing users to set custom grid sizes. GridSwitcher is available on the BigBoss repository for $1.50. Let us know what you think of the two tweaks in the comments.