Have you ever been disappointed with Mobile Safari's limitation of Google or Bing being the only available search engines? Well this will never be a problem again with Cicero – a new tweak for mobile safari that allows you to add and manage search engines directly in safari. Going into more depth Cicero is an OpenSearch-compliant search engine manager that will let you add search engines directly inside safari; either by OpenSearch-compliant websites or from their own database of search engines.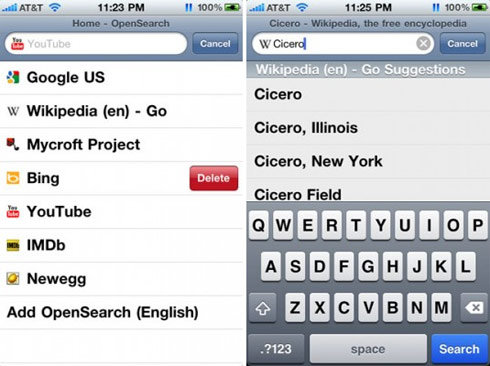 Another great thing that Cicero does is integrate search engine suggestions, for compatible OpenSearch engines like YouTube and Wikipedia. This tweak will display these search queries as you type for faster and more convenient use.
The complete list of Cicero's features are as follows:
Switch search engines by tapping on the current engine's icon.
Grab search engines from OpenSearch-compatible websites.
View search suggestions as you type (available with some engines).
Incorporate even more search engines from MyCroft's search engine index.
Delete a search engine you no longer want with a horizontal swipe.
If you are interested in giving Cicero a try it is available in the Bigboss repo for a price of $2.49! Are you willing to buy cicero and use it on your iDevice?