Roger Wetzel is one of two developers of the I'm Busy SMS tweak which we recently outlined and reviewed in the 'Messaging' edition of My Top 5 Cydia Tweaks. We had a chat with Roger, in which he outlined some hidden features, and let us in on an anticipated update for I'm Busy SMS.
In the comments section of the article in which we covered I'm Busy SMS, the team stated:
We (the developers of I'm Busy SMS) are in touch with the makers of CallBar in order make these two tweaks work together soon.
We've just received word from Roger detailing a new feature we can expect to see integrated into the tweak within the coming days.
At the moment we're working on an add-on: Flashing LED when slider is shown.
He added:
So stay tuned and watch out for the next I'm Busy SMS update which should come out next week.
I'm Busy SMS is a Cydia tweak which allows you to politely ignore a call, and set up your device to automatically send a text message with the content of your choice. The tweak is presented as a second slider, at the top of your 'Incoming Call' screen and displays your customized message along its text string. It is also possible that this update will include support for iOS 5.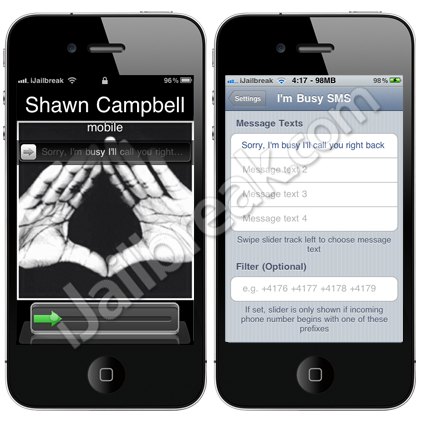 Roger also let us in on some hidden features to the tweak:
Here's some hidden features:

In Settings add y=0…480 to Filter field to change position of slider (default is y=116).

Change SMS sent sound: Go to Settings, add sid1=1331 to Filter field (see http://2go.ch?ao for IDs).
I'm Busy SMS is available through the BigBoss Repo for $2.99. Keep your eye out for the release of the I'm Busy SMS update including the new features.
For the latest and greatest on anything and everything "i" keep your browser tuned to iJailbreak.com. Enjoy!