Despite Instagram Video becoming increasingly popular there will always be a place for Vine. In fact some of the funniest things I see on Facebook are usually from pages like Best Vines. Wouldn't it be awesome if you could save these Vines to your iPhone, iPod Touch or iPad though?
Well if you are Jailbroken you will be glad to know that this is indeed possible thanks to a Cydia tweak by the name of VineDownloader. With VineDownloader installed you will be able to easily download any Vine you find to your Camera Roll by tapping the More Options button on a Vine. It will then be saved to your Camera Roll within seconds.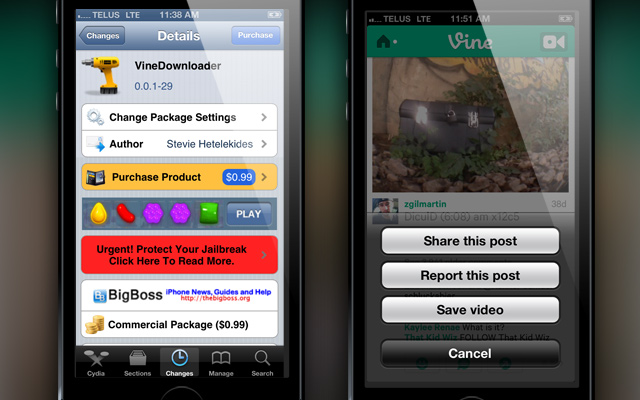 There is no settings associated with the VineDownloader Cydia tweak, but there still is a preferences panel in the Settings app with a killswitch and a link to the developers Twitter profile.
If you have been searching for a solution to download Vines on iOS then VineDownloader is the Cydia tweak for you. Now you will be able to watch your favourite Vines without an internet connection!
The tweak is currently available within the BigBoss repo for $0.99. Be sure to let us know how you like the tweak in the comments section.