HomeScreen Wallpaper: Enable HomeScreen Wallpaper Functionality On iPhone 3G, iPod Touch 2G
If you have an older iDevice such as the iPhone 3G or iPod Touch 2G then you are probably aware that Apple limited features on the iOS firmware generation. These feature limitations include the ability to natively multitasking and also the ability to have custom homescreen wallpapers.
While Apple disabled these features for good reasoning, if you are interested in enabling the ability to apply a homescreen wallpaper to your older iDevice then a new tweak was released into Cydia today called HomeScreen Wallpaper. This tweak or should I say WinterBoard theme, once enabled, will allow you to apply a homescreen wallpaper to your iDevice! Thus lifting the homescreen wallpaper restriction put in place by Apple…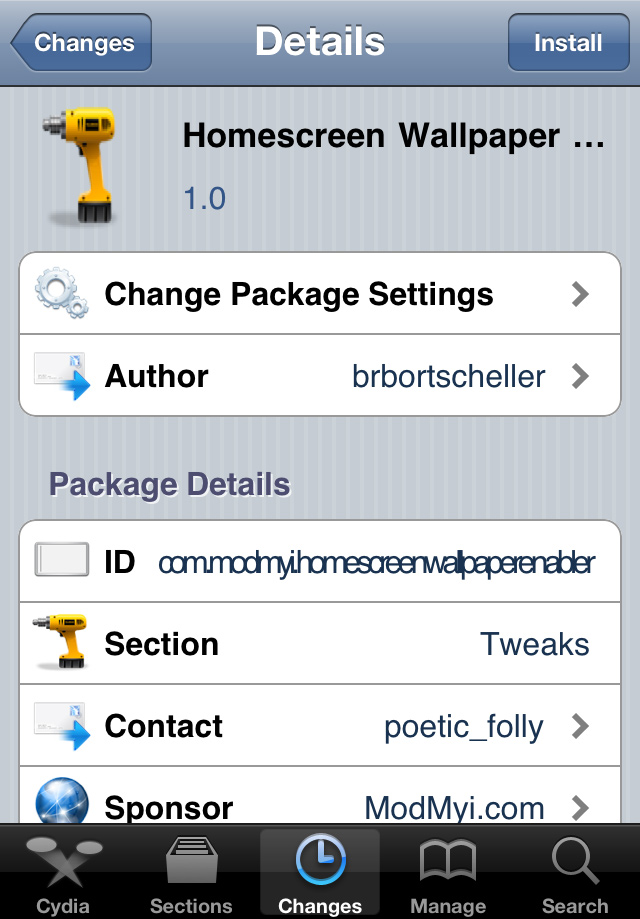 If you are interested in the HomeScreen wallpaper tweak then it is available through Cydia for FREE. Let us know if you used this tweak to enable homescreen wallpaper functionality on your older iDevice in the comments section.
IconNotifier: A Brand New Notification System
Well folks a brand new notification tweak was released into Cydia and it really is something you should check out. This new notification system is called IconNotifier and once installed any notifications will be rerouted, blocking the popup alerts and instead displaying the notification message under the appropriate app icons. This truly is a great new concept to a notification system and by the looks of it, it really plays out well. For a better understanding of how the IconNotifier tweak works please check out the official YouTube video below…
As you can see if you watched the YouTube video above, this new notification system is a great alternative to Apple's stock iOS notification system. The tweak works with the following applications.
Phone
VoiceMail
SMS
Push
Calendar
Alarm
Timer
LowPower
iPod
Popup blocker
If you are interested in IconNotifier it is available through the Cydia Store for a price of $2.99!
SwipeNav: A New Gesture Tweak For Returning To A Previously Viewed Page
A new tweak hit Cydia called SwipeNav. This new tweak allows you to visit a previously viewed page by simply swiping Left to Right. A very handy modification that can add a lot of productivity to your device in a very non-intrusive way.
Personally after trying out SwipeNav I was disappointed to find that I could not get it to work with my Cydia Tweak testing device (iPod Touch 2G). However this is not to say that this will not work for all of you. As the tweak is available free through Cydia there is nothing stopping you from testing out this new gesture short cut tweak. Take a look at the YouTube video below for a preview…
If you tested out the SwipeNav tweak let us know your thoughts on it in the comments section.
Note: This tweak will only work UINavigation
FlipOver: Mute or Lock iPhone, iPad, iPod Touch When You Turn it Face Down
A cool new tweak was released into Cydia called FlipOver and this tweak actually allows you to mute or lock your iDevice by simply turning it face down. If you then turn your iDevice face up it will unmute or unlock your iDevice. A cool concept don't you think? Personally after looking into the tweak I can conclude that it does work as advertised and can be quite useful.
Upon installing the tweak you will find a tab in your Settings.app where you can configure different aspects of FlipOver such as Sensitivity.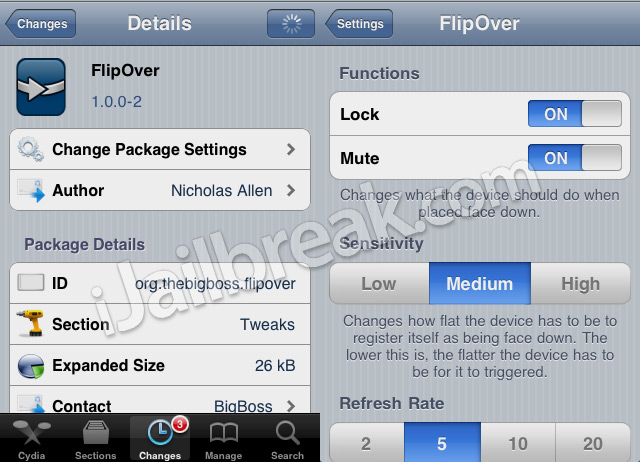 If you are interested in FlipOver this tweak is going to cost you $0.99 through the Cydia Store.