You may have seen our earlier guide on changing your default password. Here's a reminder to make sure you do it!
If you're an avid jailbreaker like us, you'll no doubt have OpenSSH installed on your iPhone to be able to SSH into it using a desktop client such as CyberDuck. You should also, therefore, appreciate the risk associated with this tweak and the dangers that come with leaving your password at the default alpine setting, purely because it is widely documented.
So, it's best practise to change it.
First, you'll need to download MobileTerminal from our very own repo here at iJailbreak. Simply launch Cydia and go into the Manage > Sources > Edit > Add and add our repository URL:
Now search for MobileTerminal and Install it.
Once this has downloaded and installed, go ahead and open it up and follow the below instructions at the iPhone-Name:- mobile$ prompt:
Type: passwd
Enter the old password: alpine
You 'll then be prompted to enter the new password. You won't see the characters you type being entered don't worry.
You 'll then be prompted to re-enter that new password.
You should then be returned to the Mobile$ prompt that you started on when opening the MobileTerminal app.  There 's no success message to say the password was changed but if there's no error message it's successful. That's that done for the change for the mobile account.
The second primary admin account for the iPhone is called root so it's necessary to change that as well.
Type: login root
Enter the old password: alpine
Enter: passwd
Enter the old password alpine and then enter your desired new password twice, just as you did for the mobile account.
All done! Easy hey? You just increased your security by 10000%!
It should all look like this if you've done it correctly: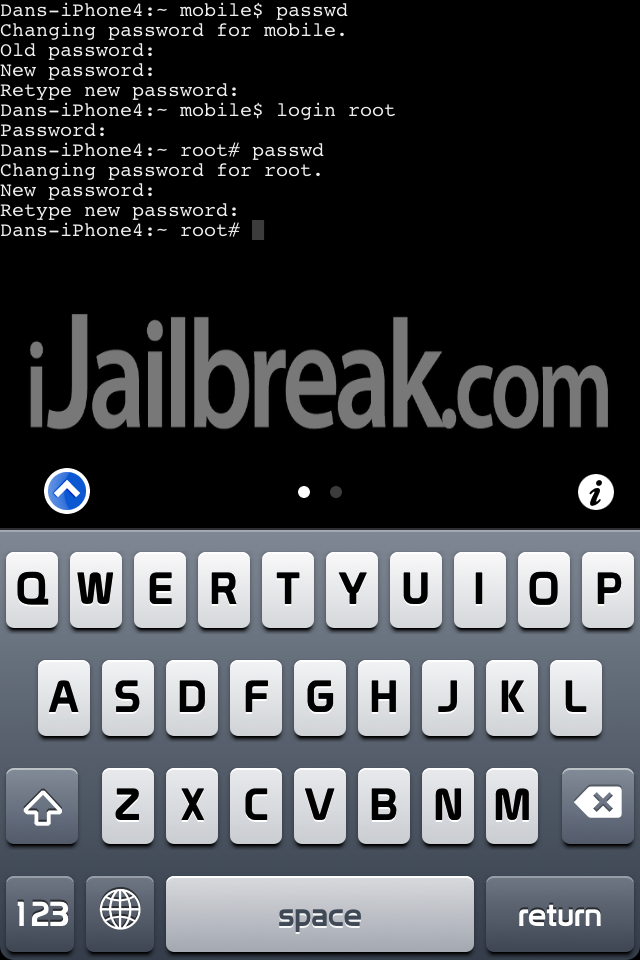 As always, let us know if you have any problems by leaving a comment, or posting in our forums.
If you would like to SSH into your phone, you'll need a jailbroken phone; check out our guides (PwnageTool, Sn0wBreeze, GreenPois0n) on jailbreaking your iDevice.