Does the fact that the iOS firmware disallows you to set custom ringtones based on contact groups annoy you? Well, if it does then you will be glad to know that for all Jailbroken iPhone's there is now a solution to this limitation. Introducing the GroupRinger Cydia tweak! What the GroupRinger Cydia tweak allows you to do is assign ringtones to a group of your contacts. So, for example, if you wanted to instantly know when one of your friends was calling versus your parents you could set this up using the GroupRinger Cydia tweak.
You can of course also manage your contact groups and members with the GroupRinger Cydia tweak, being able to constantly assign members to different groups, rename groups and so on. One limitation to keep in mind however, is that you cannot set ringtones for individual contacts (only groups of contacts). Regardless, GroupRinger is a great tweak for anyone looking for group ringtone functionality on their iPhone for an understandable price.
Note: This tweak does add an icon to your SpringBoard (homescreen) so that you can manage your contact groups.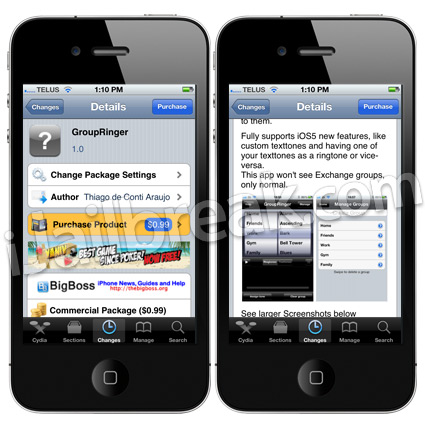 If you are interested in the GroupRinger Cydia tweak you can find it through the BigBoss repo for $0.99. Let us know what you think of this tweak in the comments section below…