I personally only discovered F.Lux a few months ago, and when I did I noticed a huge difference in eye strain reduction while working on my computer during the late hours of the night. If you are like me and have never heard of F.Lux before then boy am I excited to share it with you.
F.Lux is basically a service that runs in the background of your computer, making the color of your computer's display adapt to the time of day (warm at night and like sunlight during the day). This has been proven to reduce eye strain significantly, and in some cases has even reported to effect your mood in a positive way. Though F.Lux hit Cydia a couple months ago, I have been meaning to let iJailbreak.com readers know for some time now.
If you want to view your iPhone, iPod Touch or iPad's screen how it was meant to be viewed during all hours of the day then you have to download F.Lux iOS edition.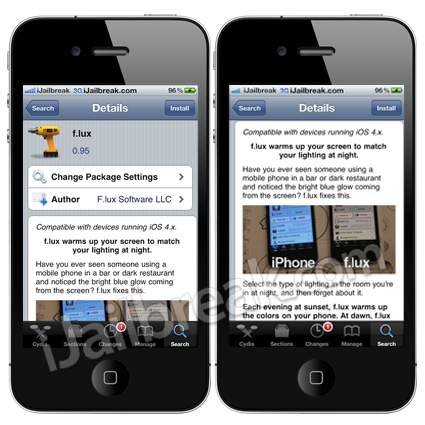 Note: As F.Lux runs in the background and uses Location services to determine your location (this allows F.Lux to adapt your screen brightness according to your timezone) you will notice a minor reduction in battery life.
If you are interested in the F.Lux tweak you can find it through the BigBoss repo for FREE. Let us know what you think of F.Lux in the comments section below…