Cydia tweaks are being released left-rght-and-center, but here are 3 that we think deserve your attention: CCHide, Share Widget for iOS 7 and AirBlue Sharing.
There have been a lot of Cydia tweaks released to customize the ControlCenter of your iPhone, iPod Touch or iPad but CCHide is the first one that lets you hide specific sections in the ControlCenter. With the tweak installed you simply navigate to its preferences area and you will see toggles correlating to each section contain in the ControlCenter.
Settings Section
Brightness Section
Media Controls Section
Airdrop/Airplay Section
Quick Launch Section
The only other toggle is for conditional media controls which will force the media controls to stay hidden unless music is playing. There is no respring required and you can find CCHide in the BigBoss repo for free.
Looking to bring back Facebook and Twitter widgets to the Notification Center?
Well look no further than the Share Widget for iOS 7 Cydia tweak. This tweak will allow you to quickly post directly to Facebook and Twitter from the Today Tab in the Notification Center with good looking shortcut buttons. There are also other shortcuts for Chinese social networking sites such as Sina Weibo and Tencent Weibo.
Once you install the tweak simply head on over to the Notification Center section in the settings app and enable the Share Widget under Today View. Then you can start sharing to Facebook and Twitter exactly like iOS 6 without leaving the current app you are in.
You can find Share Widget for iOS 7 in the BigBoss repo for free.
AirBlue Sharing has been updated to be compatible with iOS 7 and the iPhone 5s. So why get AirBlue Sharing when there is already bluetooth sharing in iOS 7?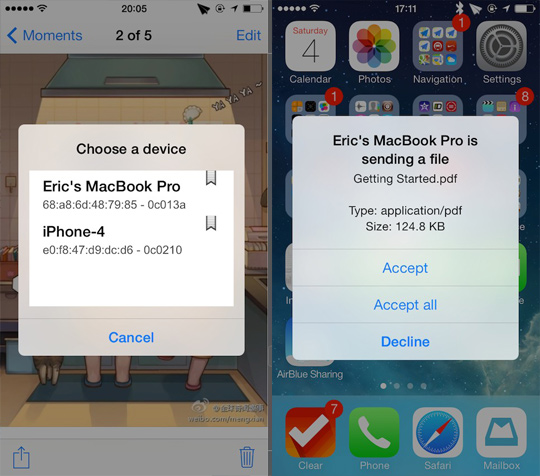 Well this tweak extends the functionality and allows you to transfer files with other non-iOS devices and also from your computer.
Zero configuration
Native Bluetooth pairing, do not have to re-pair your device when using iOS native Bluetooth
High speed Bluetooth transmission, up to 1.7 MB/s
Automatically shutdown Bluetooth when transmission done to save power
Transfer files over WiFi connection, it's possible to transfer a video file in a few seconds (iOS to iOS)
Automatically create a WiFi hotspot for transmission when no WiFi available (iOS to iOS, large file)
Send from Notes/Photos/Videos /Music/Contacts/Voice Memos …
Send any file from applications support "Open in …"
Import received files to Contacts/Photos
Import received files to applications support "Open in …"
Send/receive multiple files simultaneously
Sent/received notification sounds
Compatible with Mac OS X, Windows XP/Vista/7, Linux, Nokia, Android, Blackberry and other Bluetooth enabled phones
If you are interested in AirBlue Sharing it is available on the BigBoss repo for $4.99.