If you are new to Jailbreaking or have never really known what Cydia's "Who Are You?" screen actually means/does, then you will be glad know that today I will be shedding some light on the topic.
When you first Jailbreak your iPhone, iPod Touch or iPad, and then launch Cydia for the first time, you are presented with a "Who Are You?" screen. From this screen you are asked to pick one of three options to categorize yourself as a Cydia user. The whole reason that Cydia asks you whether you are a "User", "Hacker", or "Developer" is so that you will not be shown Cydia packages that you have no idea of, and are of no use to you. Now, the big question most people ask themselves when they get to this screen is which category should I place myself under?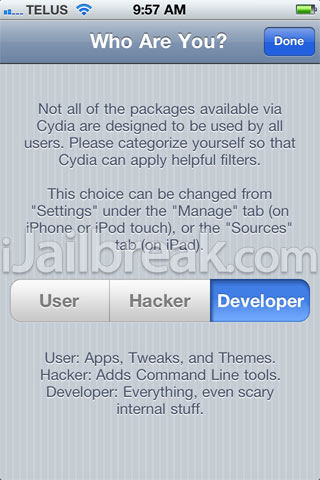 The answer to this question is fairly simple:
If you Jailbroke your iPhone, iPod Touch or iPad to enjoy using Tweaks and Themes, and do not want to be bothered by technical Cydia packages. That require use of command line/computer programming, then you need to choose "User".
If you like to experiment with command line Cydia packages such as TCP Dump, Pirni-Derv and other technical packages then you will want to choose "Hacker".
The last option is "Developer", and the only reason I would suggest selecting developer is… if you are a developer. There is no other reason to select the developer category, unless you are an actual developer.
Are you still confused about which option to choose? Personally I recommend, if you do not know which category to classify yourself, choosing "Hacker". This is simply because some Cydia tweaks require certain "Hacker" only packages to function, and if you choose the "User" category you may end up hiding some useful Cydia tweaks from being displayed.
Note: If you ever want to change your category classification, simply go into the Manage Tab > then tap the Settings button in the top left corner of the screen.
Let us know what you categorized yourself as in the comments section below…