ControlTask is an interesting new Cydia tweak that brings back the app switcher found in iOS 6 and implements it into the ControlCenter in place of the default Quick Launch shortcuts.
Although one cannot argue the app switcher in iOS 7 is gorgeous and works very well, because you are taken to a whole new interface when initiating it, sometimes it can feel like a little overkill. And this is where ControlTask comes in.
If you just want to quickly switch between apps, then having the ability to simply slide up the ControlCenter to do so greatly expedites the process.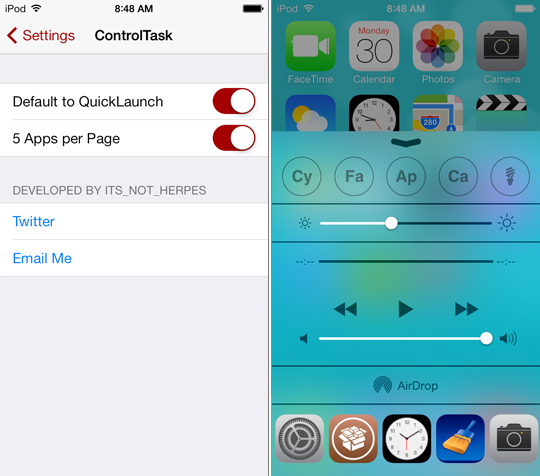 The apps found within the new app switcher section cannot be removed like the stock iOS 6 app switcher; they can only be swiped through and launched, which is a good thing. ControlCenter is not meant to replace the iOS 7 app switcher, but rather supplement it.
The tweak does have some settings associated with it as well that includes whether or not you want to default to QuickLaunch and then swipe to reveal your previously opened apps, along with the ability to switch to 5 apps per page rather than 4.
You can find ControlTask for free in the BigBoss repo. If you decide to try it out let us know what you think of it in the comments section below.