The Overflow Cydia tweak has quickly garnered a reputation of being a well sought out Cydia tweak for adding extra style to your iPhone, iPod Touch or iPad. In case you have not heard of the Overflow Cydia tweak before, essentially what it does is brings a cover flow effect to your dock icons. When combined with the Infinidock Cydia tweak (scrolling dock) you get a really unique effect that resembles scrolling through album artwork via the Music.app.
For anyone who has recently been searching for the Overflow Cydia tweak, you may have noticed it is no longer available. In actual fact, the Overflow Cydia tweak has now been renamed to the Cascade Cydia tweak. Thus, for all of those searching for this great Cydia tweak you will need to search for Cascade… NOT Overflow.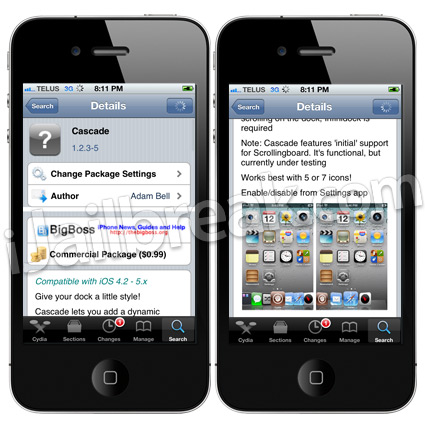 You can find the Cascade Cydia tweak for a price of $0.99 from the BigBoss repo for all of those who are interested in such functionality. Don't forget to leave any thoughts about Cascade in the comments section below.