It's now possible to set cars to unlock their doors when your cellphone's in range, so why can't we set our phones to be the same? Instead of having to manually toggle on Location Services, toggle WiFi Off, and open your preferred turn-by-turn navigation app, and connect to your car's hands free speaker system–wouldn't it be great if you could set your phone to do all that itself? That's what I was hoping for from a Cydia tweak called Car Mode.
Car Mode can be activated from an alert that pops up when you automatically connect to a Bluetooth device or through SBSettings if you don't have a Bluetooth hands free speaker. Depending on your settings it can enable wireless radios such as Bluetooth, WiFi, and the iPhone's battery draining GPS functionality, as well as automatically open any app you choose. When you disable the tweak through SBSettings it will switch off your wireless services, again depending on the settings you choose.
That said the tweak is a little redundant, at least in it's current implementation. It's a bit more like a customized version of Airplane mode with an extra activation method than a fully automated toggle. Car Mode would be far more effective if the settings took effect automatically on detection or removal of a specified Bluetooth device, as opposed to popping up an alert with a button on it whenever any Bluetooth radio is detected/lost.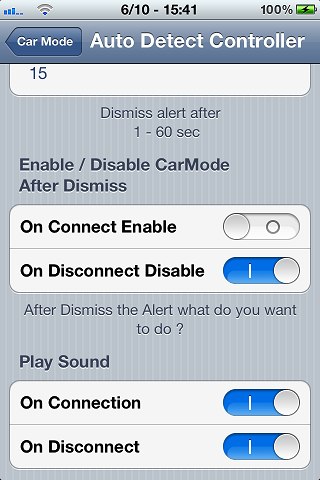 If you think you'd find a quick Car Mode toggle useful, you can find the tweak in the ModMyi repository on Cydia for $0.99. With only a few improvements this has the potential to be a really great tweak.
Do you find yourself changing your phone's settings throughout the day? Would you find Car Mode useful? Share your thoughts in the comments section below.