There is a ton of lockscreen replacement Cydia tweaks out there, but today we have another unique one that you should consider. The tweak is called BuddyLock and its developer describes it as a "beautiful lockscreen replacement."
With it you will be able to quickly unlock your device and go to any app straight from the lockscreen. There is also a cool folder with extra app shortcuts and a ton of other features that you are sure to love. These features include:
Slide Views: You are able to configure slide views from the Settings app that will bring up either music playlists, contacts or widgets by simply swiping from the left or right side of the screen.
Head Activators: You are able to set activate options like WiFi, Bluetooth, Facebook, Twitter and more by swiping, tapping or tap-holding the lockscreen header.
Themes: One great aspect to BuddyLock is just how customizable the tweak really is. You are able to change the color of the header, status bar, lock slider or clock text. There is also a ton of other customization options that include clock font and the size/opacity of lockscreen items.
Hide Items: If you don't want to customize an area of the lockscreen you can hide it. BuddyLock allows you to hide various lockscreen elements such as the status bar, the header, battery charging indicator and so much more.
All-in-all BuddyLock is a great tweak that is highly customizable to suit your needs. There is a lot more to BuddyLock than you can get from just reading about it, you really have to experience it for yourself.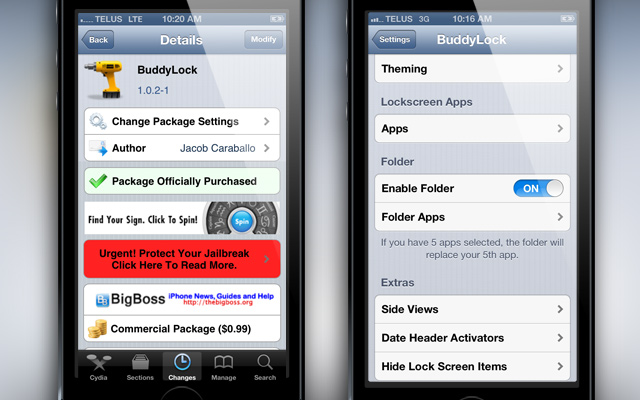 If you are interested you can find BuddyLock on the BigBoss repo for $0.99. Be sure to let us know what you think of it in the comments section below.