Yet again, another anticipated tweak people been looking forward to was released today called Badger. It was developed by Aehmlo Lxaitn and Brett Schuster and is now available in Cydia's BigBoss repo for $0.99.
Badger allows users to view notifications by using its default activation method by swiping up on an app icon displaying a badge kind of like Velox. Upon swiping up on an icon a nice pop-up menu will appear containing your unread messages and allows users to delete individual notifications from the interface by swiping to the left, or reveal the entire notification by tapping on it.
This will invoke a scrolling process which is a little slow and users will notice when deleting a specific notification from the Badger window they wont be deleted from the app, nor will the number decrease from the applications badge. There are other activation methods like Tap an App Badge which will be discussed later.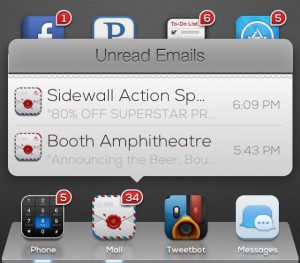 If you experience an application with a badge or unread notification and invoking the Badger window doesn't work go to Settings/ Notifications/ tap on the application you want and make sure the Badge App Icon toggle is switched to on.

Badger comes with plenty of nice options to customize the tweak. Users have a killswitch, five different animated styles for entering and exiting the Badger pop up interface and in addition there is a contacts picture toggle for interacting with apps that might have pictures displayed.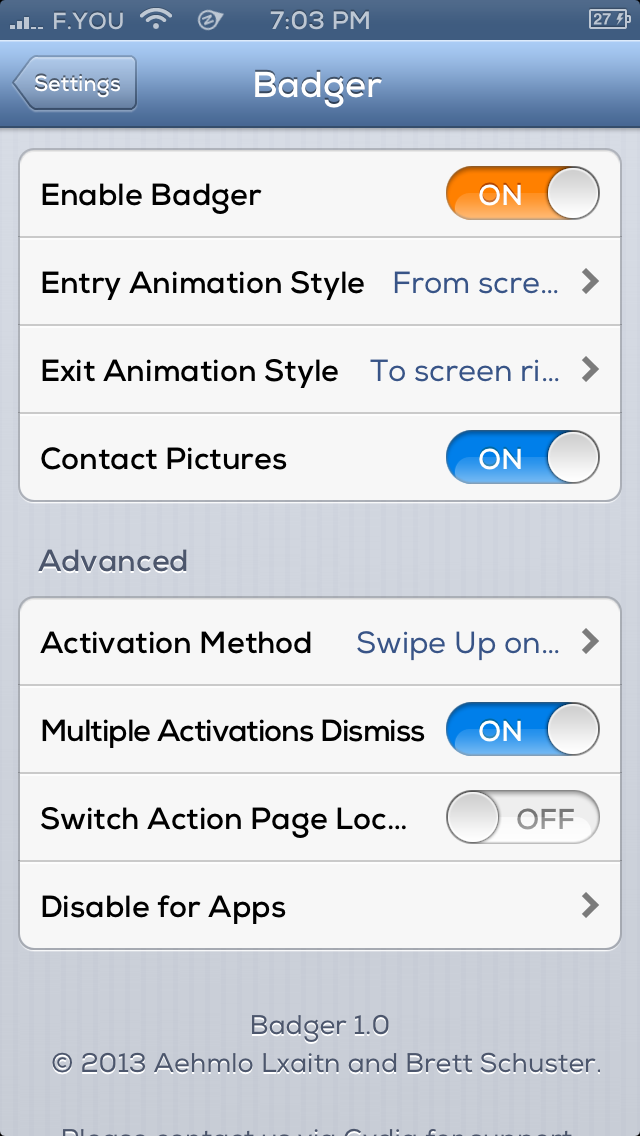 There are other advanced options such as changing the default activation method from swiping up on an icon to Swiping Down Icon, Double Tap Icon and Tap App Badge. The Double Tapp Icon method takes longer to launch an app and the Tap an App Badge might require a little practice because you need to tap the right spot. Multiple Activation Dismiss allows you to use the same activation method used to activate Badger to dismiss Badger, and Switch Action Page changes the swipe direction of Badger's action page. Finally, disable for apps allows you to disable Badger for specific apps.
I think it's a pretty cool idea to interact with your app's notifications and hopefully we will see some improvement in new versions. It seems like the developers are devoted to the tweak and the user experience. Lets us know what you think of the Badger tweak below in the comment section.