Another new tweak was released into Cydia today that I find to be a very cool concept if you find yourself away from your iPhone a lot! This tweak is called AutoResponder and it will make sure that no one who texts you will ever feel ignored again! Lets switch over to some questions… Have you ever gotten texts while in a meeting, in school, in a movie, or even while in deep sleep? Well if you have AutoResponder, it will make sure that anyone who texts you knows that you are unable to respond and will get back to them as soon as possible. AutoResponder has built in messages for common activities, or you can even write your own responses!
How does AutoResponder work? Well AutoResponder will reply to any text that you receive while it is enabled and send the selected message to the person and you don't even have to do anything or hit any send button! With this tweak you can make sure your friends and family never feel ignored again!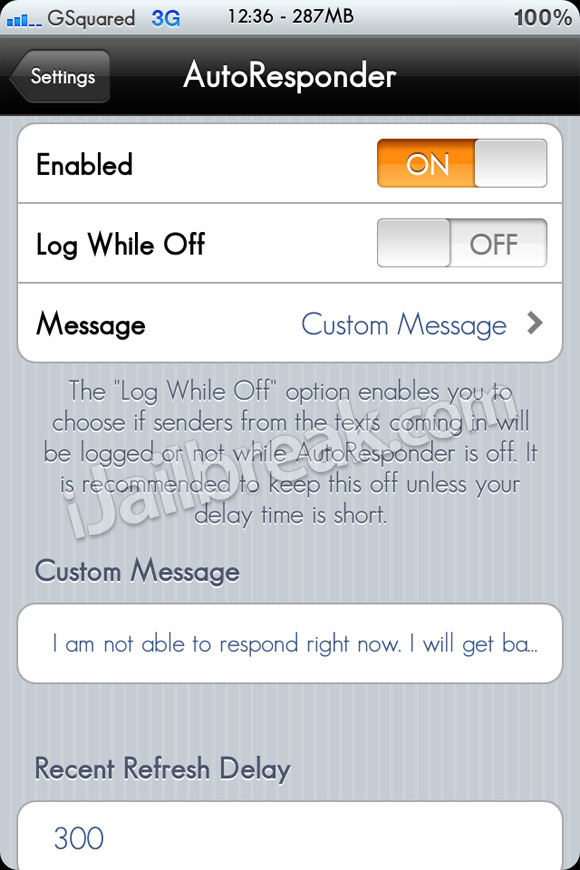 If you are interested in the AutoResponder tweak you can find it through the Cydia Store for a price of $1.50! Which to be honest is a good price for a tweak which provides such great functionality! Let us know if you are interested in the AutoResponder tweak in the comments section below…
Important Note: This WILL use SMS messages from your carrier's plan, if you do not have a plan or have a very limited plan, please use this app cautiously as texts can build up quite quickly. This does not send texts for free unless you have a free texting plan.