Wouldn't it be great if you could simply ask Siri to play a song that you are thinking of via Spotify? How about if Siri could open your GPS application and direct you to your spoken destination? If you answered yes to these questions then you will be glad to know that a Cydia tweak was recently released to bring both Spotify and GPS integration to Siri. This tweak is called AssistantLove and is a really great tweak if you are looking to increase the functionality of Siri.
Besides AssistantLove bringing GPS and Spotify integration to Siri you can configure Siri to launch applications intelligently, so when you want to open "Battlefield 3" you can just ask it to open "Battlefield". Additionally, you can also configure aliases to launch applications, so you can request to open "recipes" instead of saying "Epicurious". Finally, the AssistantLove Cydia tweak allows you to toggle certain system settings like Wi-Fi and Bluetooth with the power of your voice.
Note: GPS integration is currently compatible with TomTom, Waze, MotionX-GPS and Navigon.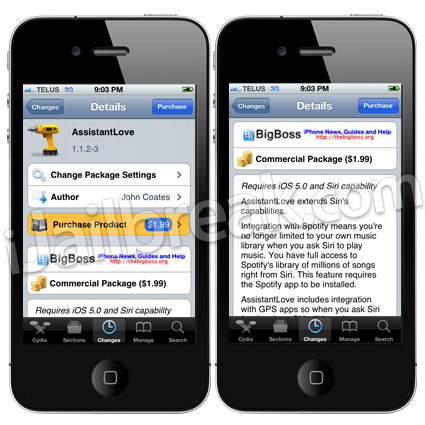 If you are interested in AssistantLove you can find it through the BigBoss repo for a price of $1.99. Let us know what you think of AssistantLove in the comments section below…