My biggest criticism of even the best WinterBoard theme is that everything looks good, until you find that the icon for one of your favorite apps isn't supported. When that happens, you have a sore thumb sticking out from an otherwise slick theme. While Aicon won't always be the perfect solution to calming down unruly icons it can help make the hold outs "work."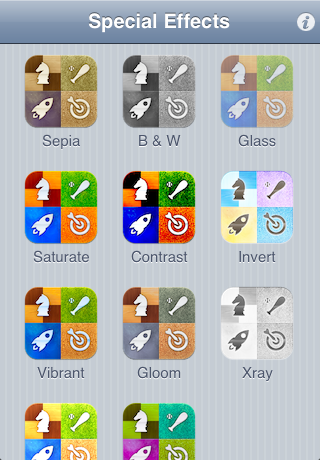 Aicon resembles a filter app, like Instagram but for the icons on your Springboard. Aicon's special effects filters include Sepia, Black and White, Glass, Saturate, Contrast, Invert, Vibrant, Gloom, Xray, Exposure, and Hue. Each setting changes the look of the icons on the Springboard. While you would get better results editing each one of your hold out icons by "hand", that takes skill and time.
What Aicon needs, in order to be the ultimate theme compatibility app, is to package in more secial effects and settings. Including Black and White and Sepia is a good start (as are the other nine options), but there needs to be an option for monochrome tints in every shade, color, and intensity. There also needs to be a way of excluding themed icons from Aicon.
Aicon is a paid tweak that costs $1.99, it supports the iPhone, iPad, iPod touch running iOS 5 and higher. Aicon can be found in the BigBoss repository on Cydia. It is possible to get the same effect by going through the folders in /private/var/mobile/Applications with GIMP or to create custom icons in Library/Themes/THEME/Icons for themes in Winterboard for free, but that can take a long time and involves some trial and error.
Would you use Aicon, do you mod your themes yourself, or do you not mind if an icon to two is out of place? Share your thoughts in the comments section below.