Ryan Petrich has released a new tweak today in his beta repo called Actiwidget that allows you to create custom Notification Center shortcuts based off of Activator actions. Although the idea may sound incredibly simple it has never been done before and it is incredibly useful to say the least.
When you first download Actiwidget from Cydia you will need to activate the widget through the Notifications section in the Settings app. Upon doing this you will then need to go into the Activator section, followed by Menus. From here you can begin managing all of the shortcuts. This includes rearranging their order, deleting shortcuts you don't need and of course adding shortcuts.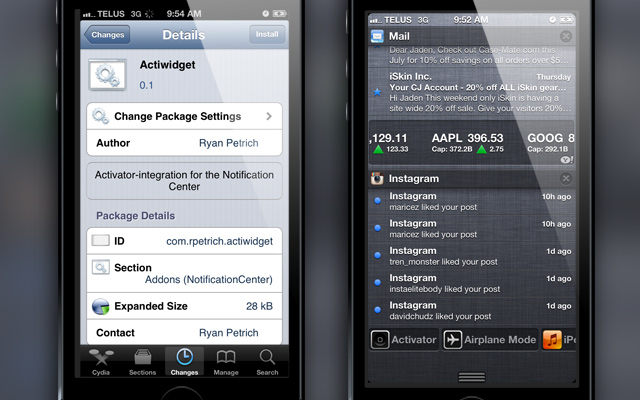 Once you have configured the shortcuts to your liking swipe the Notification Center down and you will see them display in whatever position you set the widget to. You can swipe right to left to reveal all of your shortcuts and obviously tap on them to activate them.
Right now the shortcuts don't necessarily look the best, but this is to be expected from a beta tweak. If you are interested in trying Actiwidget for yourself you can find it in Ryan Petrich's beta repository. If you don't have his beta repository added launch Cydia, go into the Manage tab, followed by Sources section, tap Edit, Add then enter the following:
http://rpetri.ch/repo
Let us know what you guys think of the tweak in the comments section below.