The Hands-Free Control Cydia tweak (released earlier this week) allows you to activate Siri with your voice without actually having to double press the home button. Additionally you can also activate the Voice Control feature present on all iDevices besides the iPhone 4S with your voice. Hands-Free Control works by adding a continuous listening service on your device to activate voice functions, even while in sleep mode. Thus, when you speak the keyword, "Siri," the Siri service, or Voice Control will be activated without pressing any buttons, and then wait for further voice input.
Note: Sensitivity adjustment to the activation keyword and other configuration options are provided in the Settings.app under "Hands-Free Control."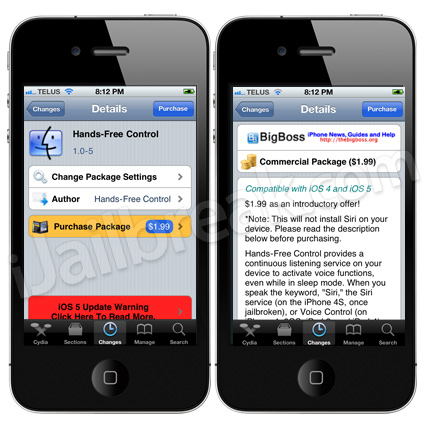 One thing to keep in mind with the Hands-Free Control tweak is, that as it is constantly running in the background it does have fairly noticeable drain on your battery life. Thus, Hands-Free Control is more of a "showoff" kind of tweak.
If you are interested in the Hands-Free Control tweak you can find it through the BigBoss repo for a price of $1.99. Let us know what you think of Hands-Free Control in the comments section below…