ActionNotifier is a new tweak that was released in Cydia today that allows you to be notified when specific actions occur with a banner notification. Right now the actions that you can configure to display notifications include Music & Video, App Uninstall, USB Cable Connect and Disconnect and Headphones Connect and Disconnect.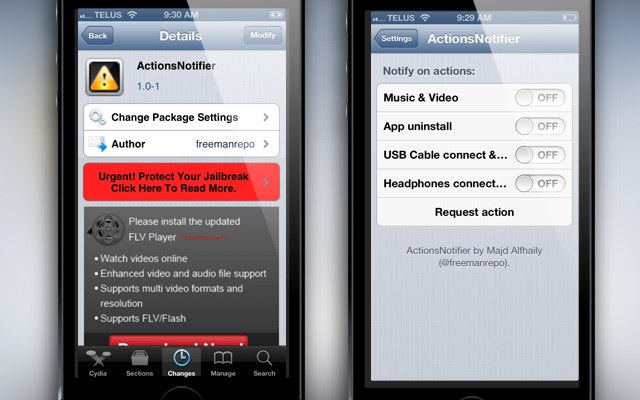 The developer also is allowing users to request new actions to be added. It would be nice if ActionNotifier had a larger library of actions or even integration with Activator, but it is not a bad tweak if you are looking to be notified upon certain events.
All of the available notification events have killswitches in a preferences panel in the Settings app and there is even a button to make it easy to request actions. The button opens up the Mail app so you can easily communicate to the tweak's developer what functionality you want added.
If you are interested in AcitonNotifier you can find it in the BigBoss repo for free. Let us know your thoughts on the tweak in the comments.