iOS 4.3 brought a new tethering feature to the iPhone. It's on both carriers, ATT and Verizon. What's the catch? You have to pay additional fees to activate the feature. ATT makes you upgrade to the 4GB DataPro plan, which is $45 a month. Verizon makes you pay an extra $20 a month for 2GB of tethering. That's quite a lot of money for one feature. Once again, jailbreaking saves the day! Once you jailbreak, you can tether for free. If you were lucky enough to get unlimited data before ATT pulled it, then this is perfect for you. There are couple of tethering apps, on the Cydia store. But the two that work the best for me are MyWi and TetherMe.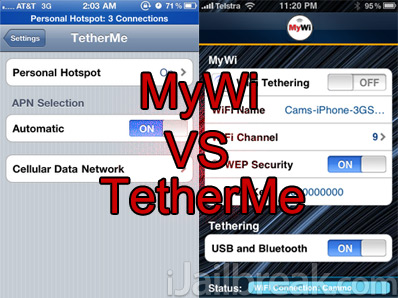 MyWi is developed by Intelliborn. You can buy this from the Cydia store for $19.99. Its UI is very nice and easy to use. You can activate WiFi, USB, and bluetooth tethering with one touch. It also has many customizable options (ex. WiFi security and passwords, WiFi channel, transmit power, and auto shutdown timer). I personally don't use this as much because it freezes your iPhone a lot and you are forced to reboot.
TetherMe is a much cheaper alternative to MyWi. It's only $.99 from the Cydia store. The best part of this is that you can activate tethering as if you were paying the extra fee (does not charge you the fee). This package does not create an app on your SpringBoard. You just go to Settings > Network > Tethering and Tap USB or bluetooth. If you want to activate the personal hotspot, tap personal hotspot on settings and slide the on bar.
One thing I like about MyWi that TetherMe does not have, is the MB usage on the blue status bar. It might be useful to someone who doesn't have unlimited data to see how much data has been used. But I still recommend TetherMe over MyWi because I usually get faster speeds with it and it doesn't freeze. Also, it feels better not having to use 3rd party applications to tether. You can just do it how Apple wanted its users to do. Leave your opinion about which one is better in the comments below.
Disclaimer: There's a slim to none chance of ATT and Verizon finding out about this unauthorized tethering and charging you. Do this at your own risk.