Well folks if you just read my last post, you would have just found out the the dev-team and comex have released a brand new iPhone 4 jailbreak. This jailbreak will not only jailbreak your iPhone, but all other iDevice such as the iPod Touch (MC and Non MC), iPhone 3GS and even the iPad! The jailbreak will be probably the most easy to use jailbreak, since back in the 1x days. This is because jailbreaking your iPhone 4 and any other iDevice is as simple as visiting a website! Yes, that is right all you need to do to jailbreak your iPhone 4 or any other iDevice running the iOS4 or iOS 4.0.1 firmware is visit a website.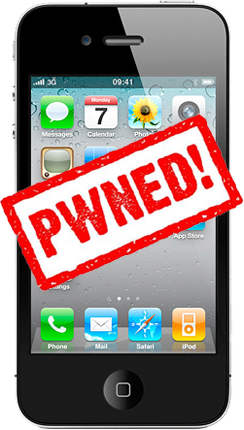 Just to clarify one more time, this jailbreak will work on the iPhone 4, iPod Touch 1g,2g,3g (MC supported) as well as the iPhone 3Gs and iPhone 3g running iOS4 or iOS4.0.1. This jailbreak will even work on the iPad running 3.2 or 3.2.1!
Learning How To Jailbreak Your iPhone 4 [+ All Devices]
Step 1) – This jailbreak is so simple that really a tutorial isn't even needed! However I am providing one anyways. The first thing you are going to need to do is click the big Jailbreak Me Now button on your iPhone 4 or other iDevice. The actual URL IS: http://jailbreakme.com.

Step 2) – Once you have clicked the Jailbreak Me Now Button on your iDevice, you will need to simply slide to jailbreak your iDevice! **Note: The website is under extreme traffic right now and may even be down. You may need to wait awhile to access the site, however if you are persistent you will gain access to it.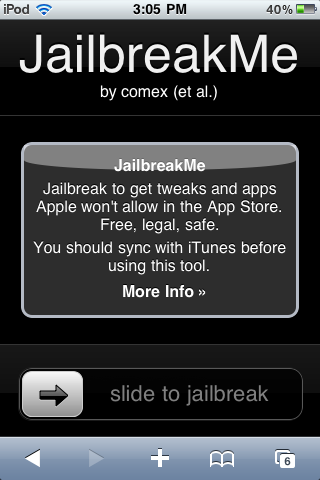 Once you slide to jailbreak your iPhone 4 or other iDevice, Cydia will appear on your springboard and your iDevice will be successfully jailbroken. A Restart is not even required; Wasn't that easy? This jailbreak took awhile to develop and was a product of hard work and dedication by comex and the dev-team. They work for free and expect nothing, so make sure if you ever bump into them on IRC, say thanks. Are you looking for an unlock? The iPhone 4 unlock will be released within 48 hours via Cydia. I will keep you updated when it is released! What are your thoughts on this new jailbreak?